APN did an interview with me on my new AmeliaG.com site!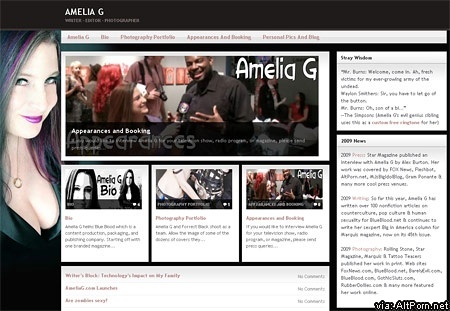 AltPorn.net interviewer Beda Hoydenish writes:
"Everyone knows Amelia G runs the Blue Blood empire and also does some of the photography and writing for it. Here on APN, we've featured photographs she has shot for Blue Blood many times and we've mentioned her writing once or twice. (You can also see the interview we did with Amelia G five years ago — Ed.) I write for APN and I have all the old Blue Blood print magazines from the 90's in plastic bags with cardboard backing, so I thought I was pretty aware and I still found a lot on Amelia G's new AmeliaG.com site to both inform and entertain me. In addition to running the business end of Blue Blood and working as an editor for many projects, Amelia G has had hundreds of photo sets published and thousands of articles. Amelia G has done writing and/or photography for all the major adult publishing houses including Playboy, Penthouse, Flynt, Crescent, Magna, and AVN, plus niche magazines including Marquis, On Our Backs, Skin Two, Tattoo Teasers, Fetish, Extreme Fetish, $pread, and of course Blue Blood. Her fiction has appeared in Best American Erotica, Best S/M Erotica, and Best Women's Erotica and dozens more books. But she still took time out of her busy schedule to give APN this exclusive interview.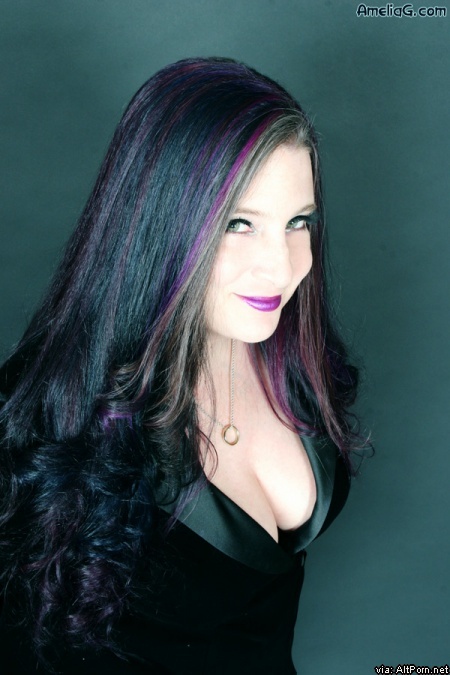 APN: Blue Blood magazine in print was really ground zero for jump-starting the whole altporn genre and you've managed to maintain a top ranking for Blue Blood for more than sixteen years. To what do you credit your remarkable success and longevity?
AG: Thanks. I always hope the universe will smile on me for hard work and doing the right thing, and sometimes it does. A big advantage Blue Blood had in coming to the web is that the magazine was always subscription-driven and we had free sites for the community for years before we launched our first membership site. We actually had paid members before we had even actually launched the first pay site because we tested out a banner rotation for a few minutes and people saw it. I really appreciate the support we've gotten over the years and try to really put a lot back into the scene and into having . . .
Cool promo pic of yours truly by Forrest Black. Read the whole interview by Beda Hoydenish on AltPorn.net.
Shortlink:
Posted by
Amelia G
on July 30, 2009. Filed under
Blue Blood
. You can follow any responses to this entry through the
RSS 2.0
. You can leave a response or trackback to this entry