We're Gonna Party Like It's Prom Night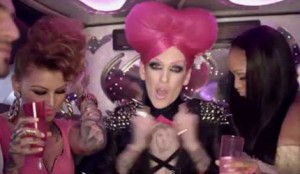 So I live in the heart of Hollywood. Any night of the week could be my Saturday, so occasionally Saturday is my sleepy day. I have a lot to do tomorrow. (Like watch the last Game of Thrones of the season.) So I went to bed nice and early.
I was awakened by music shaking my bedroom window. So I went out on the balcony to see what the heck was going on and all the negative energy just flowed away, looking at the sweetest sight.
There was this giant black party bus parked across the street. All the doors were open and they were blasting their stereo. And there were all these teenage girls in little sparkly dresses and teenage boys in tuxedos with their tux jackets off. And they were all dancing. It was like 80′s teen movie level adorable and put a smile on my face.
© 2012 KonLive/Popsicle Music | download "Prom Night" on iTunes: http://bit.ly/bFss7t

Directed by: Robby Starbuck

http://popsiclemusic.com/
http://www.twitter.com/jeffreestar
http://www.facebook.com/jeffreestar
*BUY official merchandise: http://www.districtlines.com/jeffree-star
Category: Music
Tags: jeffree star prom night akon hanna beth detox mtv pop beauty killer

Prom Night performed by Jeffree Star

We're gonna party like it's prom night
oh whoa
We're gonna fuck like it's our first time
oh whoa
We're gonna party like it's prom night
oh whoa
I just wanna sweat it out
On my clothes and in your mouth,yeah

Dress me up, paint the town
Spike the punch
oh whoa
Got me gone, I'm blown, I'm out to lunch
oh whoa
Taser in my pocket
Got the flask, got the pipe
I know, I know what you like
I know, I know what you like

I'll come pick you up
I know you wanna
Disappear with us
we're going under
Underneath your love
make a dirty mess
I'll make you remember this

We're gonna party like it's prom night
oh whoa
We're gonna fuck like it's our first time
oh whoa
We're gonna party like it's prom night
oh whoa
I just wanna sweat it out
On my clothes and in your mouth,yeah

We're gonna party like it's prom night
oh whoa
We're gonna fuck like it's our first time
oh whoa
We're gonna party like it's prom night
oh whoa
I just wanna sweat it out
On my clothes and in your mouth,yeah

Dress me down, turn me on
Spill my drink
oh whoa
Push it hard, push it good
Make me scream
Ah oh whoa
I've never done this before
Condom wrappers on the floor
Oops I lied
Yeah we do this all the time

I'll come pick you up
I know you wanna
Disappear with us
we're going under
Underneath your love
make a dirty mess
I'll make you remember this

We're gonna party like it's prom night
oh whoa
We're gonna fuck like it's our first time
oh whoa
We're gonna party like it's prom night
oh whoa
I just wanna sweat it out
On my clothes and in your mouth, yeah

We're gonna party like it's prom night
oh whoa
We're gonna fuck like it's our first time
oh whoa
We're gonna party like it's prom night
oh whoa
I just wanna sweat it out
On my clothes and in your mouth, yeah

I can't wait around
I'm gonna steal the crown
Everything I want I get
C'mon gimme gimme kiss
muah

We don't waste our time
I'm too hot
You're too fine
You take everything I give
C'mon put this on your lips
ha, ha ha ha

Oh my god you look so beautiful
Wow, thank you

We're gonna party like it's prom night
oh whoa
We're gonna fuck like it's our first time
oh whoa
We're gonna party like it's prom night
oh whoa
I just wanna sweat it out
On my clothes and in your mouth, yeah

We're gonna party like it's prom night
oh whoa
We're gonna fuck like it's our first time
oh whoa
We're gonna party like it's prom night
oh whoa
I just wanna sweat it out
On my clothes and in your mouth, yeah
Shortlink:
Posted by
Amelia G
on June 3, 2012. Filed under
Headline
,
Music
,
Personalities
,
Video
. You can follow any responses to this entry through the
RSS 2.0
. You can leave a response or trackback to this entry