Supposed Alt Filmmaker Arrested
The photographer who runs Asian Diva Girls called this post from Eden Alexander to my attention. I'm a little bit familiar with Eden Alexander's work with Kink Live and I noticed her nominations in the AltPorn Awards.
The gist of her post is that pr0n director and self-hired POV stunt cock Blaise Christie has been arrested. Allegedly, he ran a scam where he would promise a girl $1,000 to $2,000 in cash to perform on camera. His performances often included him personally having rough sex with the talent and sometimes allegedly included him providing cocaine and/or heroin. And then, after the "shoot" was done, he allegedly would claim he had some kind of bank issue and needed to write a check. Allegedly, the checks were not only bad checks, but actually sometimes written on fictitious banking institutions.
At the moment, Blaise Christie is apparently in jail, awaiting a bond hearing, for a fraud and/or bad checks arrest. If this guy did half the stuff which is alleged, he is an enormous jerk and deserves to have bad bad bad things happen to him. Ironically, the first time I heard his name was when a model I had worked with told me I needed to step up my rates because a "professional" like Blaise Christie paid "real pro rates". I took a look at the guy's site and the traffic analytics pointed out that those were not pro rates because no way was he making that kind of dough off his membership site. When I reported this back to the model the next time I photographed her, she said she had heard that he was a trust fund baby. Guess maybe his trust fund ran out.
This particular scam brings up an interesting question, albeit one I hope does not come up too often: What is the crime? It seems somehow worse than just reneging on an agreement or passing a bad check or even forgery. Technically, what crimes do you all feel this creep should be charged with?
Scam artist porn producer Blaise Christie FINALLY arrested! PLEASE RE-TWEET AND RE-BLOG!

if you follow me on Twitter (@EdenAlexanderXX) you might have been alarmed, shocked or surprised by the info i tweeted this morning. i am, at this moment a bit stunned and emotionally overwhelmed by all of this, so therefore a full blog post detailing what happened to me will come at a later time. for now, i will post this press release detailing general facts of the case, including info about the 2 suspects and what is happening during the legal process right now. the incident i was personally involved with occurred February of 2011.

bc i did not write the press release, some of the info is not exactly what happened but i will clarify in my later blog post what those discrepancies were as they are minor factors that don't dispute the severity of the accusations. (for example, i didn't take a cab, i was picked up.) obviously, i was the talent who flew in from SF detailed below, and i was one of MANY, dozens even who were ripped off, choked, punched, and sexually assaulted by this predator and his accomplice. if you or any other model you know was a victim of Blaise Ryan Carlisle, AKA "Blaise Christie" AKA "Chris Cena" and Lane Ferm AKA "Lane Diamond" (who is STILL at large) please contact the Westminster District Attorney's office at (714) 896 – 7261.

you may keep your identity 100% anonymous. if you are scared, you can contact me at EdenAlexanderXXX@gmail.com and i will speak for you. i will testify at his trial even if they try to ruin my character on the witness stand. it's my responsibility to make sure these guys are put away for good, i am dedicated to seeing them both brought to justice for what they did to me and dozen of other girls in the Xbiz.

Christie is a HUGE FLIGHT RISK. his court arraignment is next week, and without proper evidence to hold him, his bail could be set as low as $20,000. my affidavit alone should be enough to hold him in jail until his hearing with a $400,000+ bond, but we need as much witness testimony and evidence as possible.

What Christie did was not only sexual assault, but a hate crime. he used the xxx content he stole from me the other girls and uploaded it to his own personal nazi porn sites. as if ripping off, exploiting, humiliating, punching, choking, then leaving these girls stranded wasn't enough, he then turned it around and uploaded them to sites he created and updated himself whose sole purpose was to show women of color fucked, choked, humiliated, and beaten.

after today, Blaise Christie will hopefully never exploit or even come near another woman again. please read the press release below for more info, and please RETWEET AND REBLOG THIS AS MANY TIMES AS POSSIBLE. PEOPLE NEED TO KNOW WHO THIS GUY IS AND WHAT HE HAS BEEN DOING.

Press Release written by Tiffany Asian:

BLAISE RYAN CHRISTIE was arrested last Thursday after a ripping off dozens of girls for his porn website at http://electrofilms.com/ . His M.O. was always the same. He would post ads on craiglist.com and backpage.com offering $1000 per shoot paid in cash.

He would then have the girl come to a cheap motel in Garden Grove(Orange County) and shoot a 4 hour scene that would include the girl wearing gaudy blue eye liner, endless boygirl(vaginal), sometimes anal and sometimes actual choking.

At the end of the ordeal and after the girls signed the model release, when the girl was expecting $1000 or more in cash he would say there was an issue with his bank and he would need to pay by check.

The check would never clear. Alot of girls were depending on getting cash for immediate bills. He was ripping the girls off.

One established porn talent flew in from San Francisco at her own expense because she was promised $2000 in cash. She took a cab at her own expense to Garden Grove.

He gave her a check.

She called the cops. The cops came and talked to him but at 11pm were not able to confirm the check was a fake so they could arrest him.

She filed a police report and told as many people in the adult industry as she could. Other girls in the business were ripped off. Some 3 years ago, some last year and a few earlier this year.

During the shoots he would usually have a guy running camera. His stage name is Diamond Lane his real name is Lane Ferm. He started a similar website ripping off girls at http://diamonddollz.com/.

You can view Blaise' booking information at;

http://ws.ocsd.org/Whoisinjail/Search.aspx

You can confirm the website is registered to him at:

http://whois.domaintools.com/electrofilms.com

You can view reports that list Blaise Christie and electrofilms.com at:

http://straight.fleshbot.com/157200/meet-blaise-christie

http://www.fetishtheatre.com/videos/smoking-blaise-christie-pictures-edited-monoxide-1786.html

https://www.facebook.com/BlaiseRyanChristie

You can view his side kick at https://www.facebook.com/diamondlaneproducer

thank you for listening, sharing, but thank you most of all for you compassion. it took all that was inside of me to speak out to over 6,500 people on Twitter this morning and finally talk about one of the worst things that ever happened to me not only in porn, but in my whole life. thank you for your unconditional love and support, it means a lot to me.

Eden Alexander.
The following is a picture of Eden Alexander performing for Kink Live and is deeply nothing to do with Blaise Christie, only to do with babetastic Eden. For format reasons, I needed a pic to post this.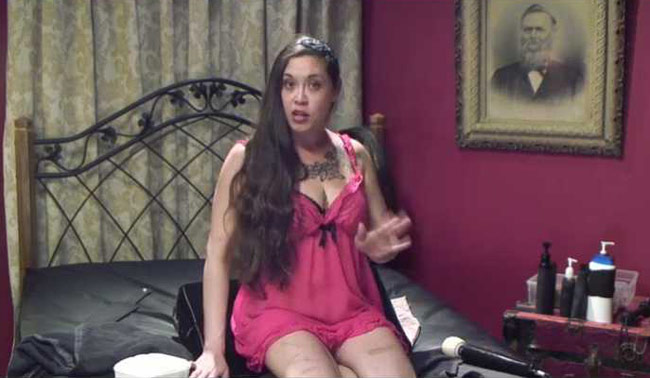 Shortlink:
Posted by
Amelia G
on July 1, 2012. Filed under
Sex
. You can follow any responses to this entry through the
RSS 2.0
. You can leave a response or trackback to this entry