Not Saying I am a Furry but . . .
It's Pandamonium! Of all the unlikely places to come across furry porn, BDSM director Princess Donna just directed a panda gangbang for Bound Gangbangs. Submissive Ashli Orion falls asleep watching a nature show about panda sex and, when she wakes up, she sees pandas everywhere. She thinks she sees them in class, at the bank, in the mirror behind her when she brushes her teeth, even on her cereal box. When she goes back to sleep, she dreams of being awakened and gangbanged by a group of pandas in a bamboo forest.
So it looks like a lot of members of Bound Gangbangs are super pissed because they get four or five full length bondage sex feature films every month and they can't believe one of them is furry sex. And it also looks like a lot of members of BoundGangbangs are super pleased because this is most likely the best furry porn movie ever made. Ashli Orion wails "I thought pandas were supposed to be nice" and gags more than I personally found necessary, but the movie is actually disturbingly hot once they get to the full-on sex and she starts wailing "OMG, I'm going to come from a fucking panda!" and "Oh, I fucking love panda cock!" and "I love pandas! I love pandas in my fucking ass!"
I'm not saying I'm a furry, but I have to admit my main objection to the subculture is kind of the objection I have to living out a lot of fantasies IRL; sometimes it just comes down to logistics and personality. I require that the individuals inside the furry suits meet a certain level of physical attractiveness and I don't want to be obligated to learn what yiffing means or how to do it all correctly. I find excessive rule sets antithetical to hotness. But, as you may know, Cookie Monster was the first bad boy I ever loved. So I do really really like fun fur.
(PS In case this was not blindingly obvious, links to Bound Gangbangs are unbelievably NOT SFW.)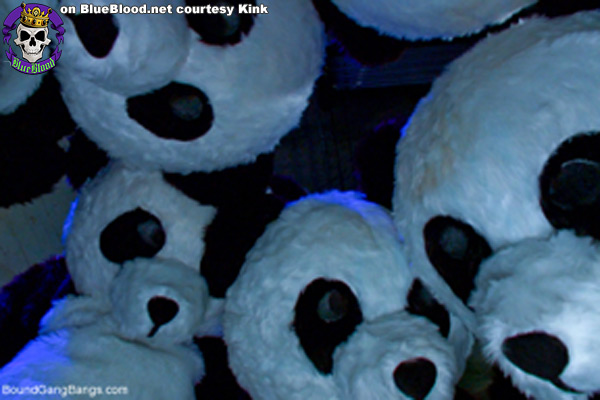 PANDAMONIUM!!! PANDA LULLABY!!! PANDA PORNO!!!!!

Date: Jul 4, 2012

Performers: Mark Davis , James Deen , Ashli Orion , Mickey Mod , Karlo Karrera and Ramon Nomar

So, here's the story. My name is Princess Donna and I am the creator/director of boundgangbangs.com (the site that you are looking at right now). I am a Mama Panda and I DO WHAT I WANT!!!!! I wanted to make a mother fucking porno where a girl gets fucked by five angry pandas (well guys in panda suits).
So you know what?
I did it!

Watch it. Or don't. Just know that it is awesome, and that being able to do what you want and then put it on the interweb for people to see is even more awesome. So anyway, that is your disclaimer. This is a shoot that involves a hot girl with a big ass dreaming of being gangbanged by pandas. Just watch it. Thank you and you are welcome.

xo Princess Donna
Shortlink:
Posted by
Amelia G
on July 9, 2012. Filed under
Sex
. You can follow any responses to this entry through the
RSS 2.0
. You can leave a response or trackback to this entry