Dark Dynamite: The Good-As But Never-Fool's World Of Jared Gold
By Clint Catalyst
May 6, 2004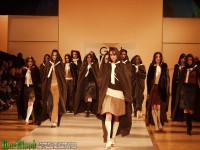 Jared Gold cranks out clothing dark in themes, bright in hues. A self-taught Idaho boy, he started out cutting patterns from thrift store clothing, catering to the immediate needs of gum-smacking prom girls and creativity-challenged small-town drag queens.

After relocating from Mormon territory to the city of smog and stardust, Mr. Gold expanded into the world of high-end fashion while working at the uber-style emporium, Fred Segal. His heart was in the special items he produced for the Segal customers, so in 1999 he waved goodbye to the retail realm and began to pour all his efforts into designing his own threads rather than peddling those of others.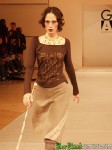 Since the launch of his men's collection in London, Jared Gold has produced a women's collection every season for five years, dazzling fashionistas with his theatrical shows that each have their own distinct concept and personality. Past collections include the themes of "Victorian Hardcore," an illusory realm of pious punks who mix pastels with slate-stained eye makeup and where his models wore brooches fashioned from live Giant Madagascar Hissing Cockroaches that had Swarovski crystals glued to their caraspaces and crawled all over the fabulously-clad gaunt carcasses stalking the runway, as well as "Golden Syndrome," his Spring 2002 collection based on "the moment right before it rains and your body feels the barometric pressure drop in anticipation of dark grey, color-filled beauty."

For his Fall 2003 collection--shown in Spring of this year to a sold-out crowd in the illustrious Shrine Auditorium--the theme was Turn-of-the-Century Dustbowl Amish Witchcraft. "I was trying to channel both N.C. Wyeth and an early Russian impressionist Varubel. Very dark and dusty, but in a direct, unforgiving, golden sunbath," Mr. Gold explains.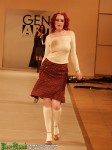 Models kicked off the event cloaked in crushed velvet chocolate-colored hooded capes, then stripped the outer layer to reveal the luscious Jared Gold creations. There were swank rustling layers, sheer fabrics that gave tongue-in-chic winking of his tattooed stumpets, then finally, Swag model Yolonda, who closed the show wearing nothing but Gold-orchestrated orange-and-black burned-at-the-stake body paint. If this seems hyper-hyphenated, you should have been there for the standing ovation!

The Jared Gold signature collection could be described as exorbitant in price, but rightly so: each piece is a work of art that relies closely on experimentation as a visual language. However, those financially-challenged need not fear; Mr. Gold creates an astoundingly affordable pret-a-porte line under the label Black Chandelier.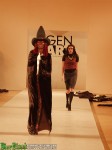 Gold describes Black Chandelier—the tag-line of which is "nursed on darkness in the USA"—as "simpler in detail and construction [than the signature line]" but "even more experimental on some levels…the screenprints, colors and concepts are much wilder and more abstracted."

Black Chandelier is available at TG-170 in New York, Barneys, Henri Bendel, Aero and Co., and Blest Boutique in Los Angeles. For those of you in the mid-West (or elsewhere), keep those eyes agape for Black Chandelier creations that Mr. Gold will be creating for none other than Hot Topic and Torrid! "I think it will be starting out as t-shirts and then moving into other things," Gold says.

Check JaredGold.com for updates. This stunning talent has a vision clear-eyed as a sharp-shooting bullet, ultimately reminding us that both humor and horror, both beauty and danger, live everywhere.