Congrats to Superna for Her Brooks and Dunn Hillbilly Deluxe Video Appearance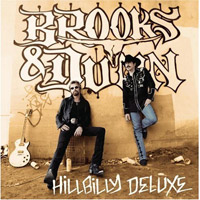 Congrats to Superna for her rockin' appearance in the Brooks and Dunn video for the title track off of their Hillbilly Deluxe album. Superna is playing guitar because Blue Blood hotties do more than just look amazing. Naturally, she looks amazing too. The vid will be premiering on, of course, CMT real soon.
I'm really psyched about this for two excellent reasons. First of all, I adore Superna and anything good that happens to her is a good thing. Secondly, I've been watching a bit of CMT lately anyway and this gives me one more reason to enjoy it.
For those of you who would like some footnotes round about now, here you are. CMT stands for Country Music Television and the channel is a division of MTV, which is a subsidiary of Viacom. Brooks and Dunn are one of the biggest acts in country music. They first hit fifteen years ago with their debut album Brand New Man, which went more than six times platinum. Brooks and Dunn have had a string of hit singles and successful albums since. Dunn and Brooks are in first and second place respectively for most CMAs or Country Music Awards ever received by anyone. The duo also hosted the awards show for the last three years in a row. So, what I'm getting at here is, they are a big deal. Enjoyable too.
Props to my girl Superna! Here is what she had to say about the experience:
Amelia G: How did you end up being in the Hillbilly Deluxe video?
Superna: I guess I get around [laughs] Seriously though, an industry associate of mine called me one day out of the blue. He said, "Hey can you play bass? Do you want to be in a Brooks and Dunn video today?" Of course, I wanted to be in a Brooks and Dunn video. I sent my info to the casting director and he called me almost immediately. It seems I was perfect, but when they discovered a little more of my ability, they actually asked me to play guitar and sing in the band for the video. I was so excited because Brooks and Dunn are my Moma's fav's!
Amelia G: Who were the other people who made up the Hillbilly Deluxe band?
Superna: We rocked! Of course, the band consisted of Kix Brooks and Ronnie Dunn, a rockin' hottie Loa Allebach on bass, Elijah Trotsky seriously rockin the banjo, Benjamin Hughes on lead guitar, Drew Taylor on drums, and I played rythm guitar and sang background vocals.
Amelia G: Do you know exactly when the video is premiering?
Superna: I will have the exact day and time soon, last I heard they were pushing for a 2 week release because the single charted so high when it was released recently. B&D also won 4 awards at the CMA's (one for best video) so the race is definately on!
Amelia G: How long did it take to shoot?
Superna: The entire production has been under way for months. We shot at Disney's ranch which was beautiful. The actual shoot time was about ten hours, including a monster lunch break at 8pm Thanksgiving style.
Amelia G: Your snapshots look fun. Was the shoot as much fun as it looks like?
Superna: It was more fun than you can imagine. Everyone in the band clicked so wonderfully, we felt like we had been touring forever. We had a lot of down time where we got to rock out with each other in the parking lot for the star trailers. I think we've got plans in the works for about five hypothetical side projects from this video.
Amelia G: Any special stories or anything you would like to say about the video shoot?
Superna: It was amazing. The entire production crew and cast were professional and everything flowed so perfectly. Between the incredible pyrotechnics, and the monster trucks, and the huge crowd of sexy ravers, and the talent of everyone involved … my mind was blown. I made some great friends too! Needless to say, I am now a hardcore Brooks and Dunn fan!
Shortlink:
Posted by
Amelia G
on November 30, 2006. Filed under
Blue Blood
. You can follow any responses to this entry through the
RSS 2.0
. You can leave a response or trackback to this entry