Happy Talk Like A Pirate Day, Eye Patch Edition
So, while I love to travel and I abhor conventional behavior for conformity's sake, I never really went through a pirate phase. Just never really liked the idea of people who take stuff that doesn't belong to them, as a way of life. Pirates basically have stealing, not as something they did once or even a few times, but as their defining characteristic.
However, I really like a lot of pirate fashion. I love leather pants and ruffled poet shirts and eye patches. I recall discovering in my late teens that you could buy an eye patch at the drug store. In retrospect, it was probably not the sexiest eye patch, but I was excited to wear it. Imagine my chagrin when I discovered that walking without the benefit of two-eyed depth perception kinda sucked. I don't recall what science fiction con I put together my first eye patch outfit for, but not being able to wear the eye patch made my slutty outfit more of just a slutty outfit and less of a costume.
Also parrots are cool. And rolled rrrrrr's are kind of fun, the way they sound and the way they roll off your tongue feels good.
Painter Vaughn Belak has painted some very lovely gothic girls who clearly got their eye patches some place way better than the local drugstore. Check out the forthcoming hardcover coffee table art book Dodging Knives and Throwing Bullets: The Dark Art and Inspiration of Vaughn Belak and happy Talk Like a Pirate Day!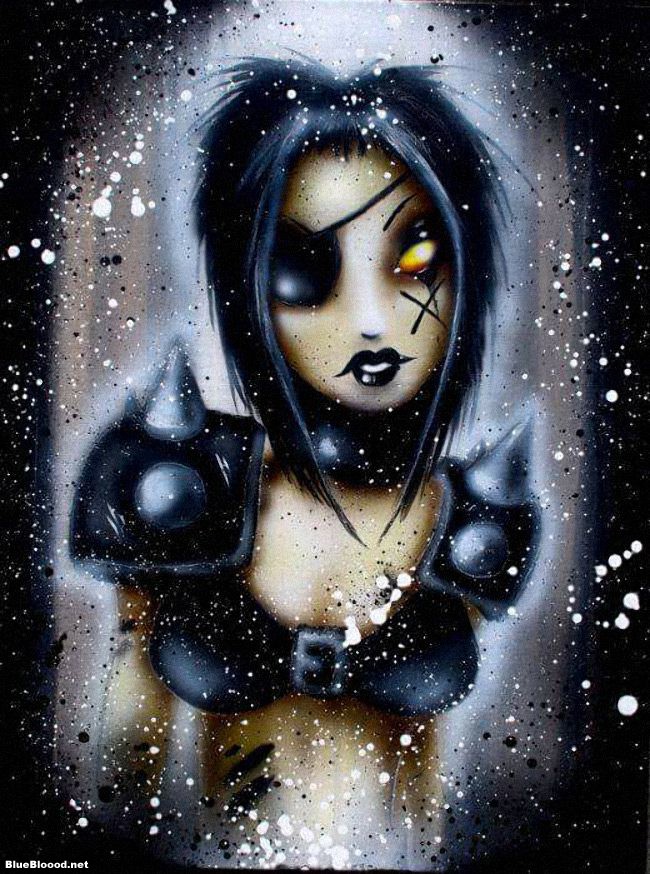 Shortlink:
Posted by
Amelia G
on September 19, 2017. Filed under
Art
,
Books
,
Headline
. You can follow any responses to this entry through the
RSS 2.0
. You can leave a response or trackback to this entry