Vernal Equinox Gothic Couture
Whether or not you know or live by the rules about white after Labor Day or however that goes, this sexy white constructed corset with black detailing from Heavy Red is part of their new spring line of gothic couture. I always used to loathe daylight savings time in the spring. I am not a morning person. If I were only able to sleep when Joe Normal folks do, my whole life might have been different and maybe I wouldn't like gothic clothing so much. Having taken up hiking, however, (and still not being a morning person), this year I am enjoying being able to start my hike later in the day, without worrying about it getting dark before I am done. (I don't mind the dark, but Los Angeles tickets $90 after dark by hike trails.)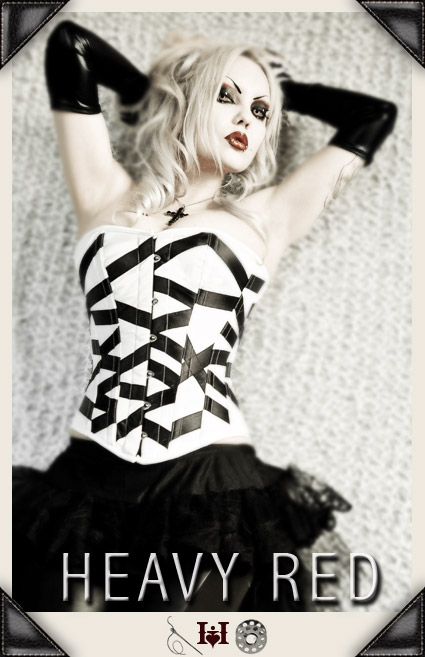 EVOLUTION OF CHAOS CORSET
From the Heavy Red Spring 2012 Line…
Style# 4207

From the brand new collection of World Famous Heavy Red Corsetry…

In a world that conspires against order, we are left with the dynamics of entropy, both on our lives and souls.
What is born… Chaos.

The Evolution of Chaos corset is binding, beautiful and appropriate for waist training. It will indeed give you that perfect hourglass figure. This white heavy matte satin corset has 12 heavy steel boned panels. The panels are adorned with black ribbon, placed at random and chaotic angles which create graphic appeal. The Steel bones are MAGNETIC STEEL GRADE -400, This is best quality steel available. The function of this steel is that its light in weight, while still keeping your body in shape. The bones automatically come to their normal position once the corset is taken off the body. The front has a 6 prong industrial busk closure; the lace up back has 28 industrial hand set grommets. There is a 5" wide vanity panel in back, if you do not wish to show skin through the lacing. The corset is lined with a heavy black, certified organic, cotton lining, which is smooth, breathable and will not stick to you in the heat of the night. This corset is truly to die for…
The lines of this corset will give you such elegant stature, you will be the object of everyone's affections.
Shortlink:
Posted by
Amelia G
on March 20, 2012. Filed under
Headline
,
Trappings
. You can follow any responses to this entry through the
RSS 2.0
. You can leave a response or trackback to this entry