The Following – Chapter Two
Now that our least favorite serial killer, Joe, has abducted his own son, it's up to the ex-wife to try and get some info out of him. But is this all just a clever ruse to get under her skin? For Joe, he wants questions answered, the questions in The Letter that he sent Claire before it all started. From our perspective it seems the questions were, how long were you sleeping with Bacon, was it good, did you love him. An interesting choice since Joe is completely obsessed with Bacon.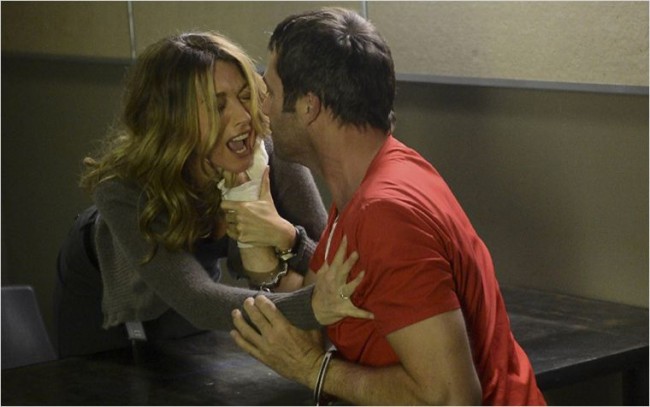 Our Cult story is getting more complicated. Bad Nanny and the Fake Gays hook up in an undisclosed location to hide the kid. And apparently slut it up. We get some back story on the Nanny, who was set up by Joe on a date with one of the Gays back in the day. Boy, this is a real long con he's running. I'm officially freaked out now.
Our rent a cop tries out his training wheels, to gruesome results. It's always sorority girls, isn't it? This disposable asset becomes not so disposable which makes me wonder what will become of him. He wasn't quite ready to finish his chapter, it seems.
I would like to give a round of applause to the set decorators and production assistants on this show. They are NAILING it. We find the Nanny's old house, which is straight out of a psychos brain: creepy drawings, pasted up book pages, MAPS, and way too many drawings of eyes.
GODDAMN THOSE POE MASKS! First there were three, then there were FOUR! ACK! SOMEONE is still living at the Nanny house, "Rick", who threatens Bacon and then runs away.
We're also introduced to a new specialist on the case, Agent Parker, who knows all about cults and is a tad on the intense side. She seems to have a lot of doubts about Bacon, but he is always right, so she can suck it. At the very end of the episode, something odd happens. She visits Joe in prison and gives him a giant tome of Poe's collected works. Hmm, what angle is she working? Is she a believer? Is she just trying to gain traction? Weird. Oh and then a dude in a Poe mask lights a citizen on fire.
Shortlink:
Posted by
Raygun Robyn
on February 1, 2013. Filed under
Headline
,
Popcorn
. You can follow any responses to this entry through the
RSS 2.0
. You can leave a response or trackback to this entry