The Following – The Siege
All continues to not be well with the Followers once the light of day shines on the most complicated relationship on television. The Fake Gays and the Nanny are now not so fake after their murder-menage. Joey finds the hidden cell phone and calls his mom to further the plot but the Feds can't track down the location in time. The Nanny tries to convince Joey that everything is a lie and his dad is actually a big hero. Is this how they got Patty Hearst to rob a bank?


Joe's old lawyer visits him in jail and there seems to be some unfinished business happening. The lawyer reads a statement, a passage from The Masque of the Red Death, during a press conference, which is a trigger for more crazy shit to go down. How does Joe have so many followers? How many visitors do prisoners get in maximum security? You can't brainwash people just with letters, right? I mean, it's not exactly my forte so I'm not sure on the matter. Don't listen to the Lawyer, Claire! They're going to try to kill you! Again! Come on, Claire! I know you're desperate, how stupid can you be?

Bacon and Sparky PD travel to where they think Joey might be. Seems like a bit of a needle in a haystack. Nice Gay still can't kill the poor chick in the basement and Joey makes a run for it. The collateral damage is really stacking up for our kidnappers. Seems awful sloppy, but I guess you can't plan for every situation.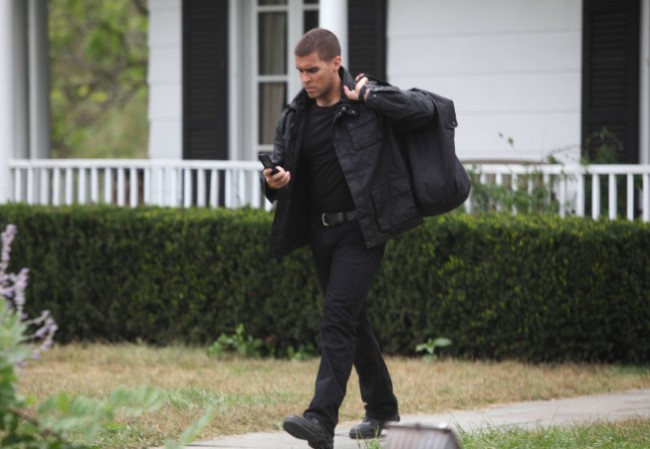 Back at the farm house, Joey gets locked in his room and a mystery guest appears. This, Hank, tells them to pack up and that they have 10 minutes to leave. Who is Roderick and what's the deal now? Bacon and team find the house and it goes poorly for all involved. I'll leave it at that since they leave this one on a cliffhanger. They are really good at that. See, it's a good thing I forgot to watch this episode on Monday, now I only have to wait 2 days to see what happens!
Shortlink:
Posted by
Raygun Robyn
on February 23, 2013. Filed under
Entertainment
,
Headline
. You can follow any responses to this entry through the
RSS 2.0
. You can leave a response or trackback to this entry