Does Anyone Know if Blue Blood Superstar Hottie Jennifer from the Nuns is Okay?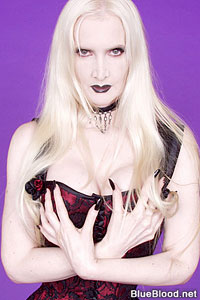 So I was chatting with my pal Anders from the band Anders Manga yesterday. I had just been looking at some snapshots of us partying together at a Hollywood hotspot just off Hollywood Blvd. When I say Hollywood hotspot, in this instance, I mean a place variously called White Lotus, The Ritual Supper Club, the local bus station, etc. where A-listers like Mark Wahlberg can go to bang porn stars cast for the next season of Entourage on HBO. At any rate, I'll post the pics shortly and add a link, but Anders and I were just talking about this and that and he asked if I had heard from Jennifer of The Nuns recently.
Descended from Welsh royalty and initially known as Jennifer Miro in the earliest 1970's incarnation of The Nuns as a seminal punk band in San Francisco, Jennifer steered the band in a more gothic direction over time and was variously known as Jennifer Anderson or Tiffany Tarantula or Maitresse Jennifer. The Nuns were huge in San Francisco and opened for bands like The Ramones and The Damned and were even on the bill for the very last Sex Pistols show. Jennifer also had a role in Dr. Caligari, the seminal cinema of transgression film from Stephen Sayadian and Jerry Stahl, who were also responsible for Cafe Flesh. However, Maitresse Jennifer or Mistress Jennifer is probably best known to members of the Blue Blood boards as the Blue Blood hottie who asked all the most interesting questions about love in the kinky tumultuous world of fame, wealth, and rock and roll.
[13:10] Anders Manga: hey have you heard from Jennifer? from nuns?
[13:10] Anders Manga: she vanished?
[13:11] AmeliaG: not in ages. I was in pretty regular contact with her, so I wonder if she got married or sex murdered
[13:11] Anders Manga: i heard her friend in the band was murdered in nyc
[13:11] AmeliaG: eep, forget I just said that particular conjecture
[13:11] AmeliaG: that's creepy
I was just thinking that Jennifer, like a lot of superstar hotties, will disappear when she gets into a new Relationship and reappear when it ends or has trouble. I wish people would not exit their normal day-to-day lives and relationships when they are in love, but it is pretty common. That is what I had assumed had happened. Now that I've read a bit more about what was going on at the time, I'm kind of worried.
Apparently, in the fall, Mistress Kris who performed with The Nuns and appeared in many photo shoots with Jennifer was murdered at a hotel in Times Square. Times Square in New York City is supposedly gentrified to the point of Disneyfication. I think a Disney corporation even covered the financing on a bunch of the un-sleazing of Times Square. Nonetheless, the Hotel Carter still stands and is still open for business from vagrants and creeps. At least as recently as 1999, Hotel Carter was the sort of establishment where the front desk personnel might be killing one another with a knife or hammer, and housed the sort of nightclub that Sean Puffy Combs and Jennifer Lopez would have to flee after a shooting incident. In the 80's, Hotel Carter was the place to throw a half-dressed bound woman out the window. I've always liked the word defenestration but not approved of the practice.
At any rate, a housekeeper found poor Kris' nude corpse wrapped in plastic under the bed, after a guest named Clarence Dean checked out. Clarence Dean was already wanted in the State of Alabama for (a) failure to appear for a property theft trial and (b) a rape charge and (c) not keeping the folks who track convicted sex offenders aware of his whereabouts. Apparently the vile Clarence Dean had been found guilty of attempting to do horrible things to a nine-year-old girl in Florida, but he had not maintained his sex offender registration. He was also accused of meeting college girls via online dating sites and then raping them. According to the New York Times, Clarence Dean also had prior convictions in Texas and Tennessee for sex-related offenses. Apparently, Clarence Dean got to New York by stealing the car and credit cards belonging to the Tennessee woman he was supposed to be helping care for as a home health aide. (The only other person I've ever heard of stealing from the person he is supposed to care for, in this sort of situation, is one of the very worst people I have ever had the misfortune to meet.) Clarence Dean's ill-gotten gains could only take him so far because he was forced to stay at the Hotel Carter because it was bargain-priced at only $99.23 a night before tax. Consider how expensive Manhattan is if $99 a night gets you a place described by the AP as "a threadbare accommodation that stands as a throwback to Times Square's seedy past . . . for budget travelers who don't mind insects, grimy bathrooms, stained furniture and broken telephones."
So anyway, the whole thing is totally appalling. It appears that the perpetrator of this awful deed is probably standing trial round about now and may get the death penalty. Certainly, given his long rap sheet, Clarence Dean does not sound like a candidate for rehabilitation and no amount of remorse on his part, if he had it, would bring Kris back. To be 100% even-handed, I'll mention that Clarence Dean's brother apparently claims the guy is a simpleton who is being framed, but I can't think what the motive would be for the New York City police to frame a fugitive serial sex offender for murdering a hot girl from a goth band.
At any rate, I hope Jennifer is okay. Does anyone know how she is doing?
Shortlink:
Posted by
Amelia G
on June 21, 2008. Filed under
Blue Blood
. You can follow any responses to this entry through the
RSS 2.0
. You can leave a response or trackback to this entry