Immortalized, Episode 5: Love and War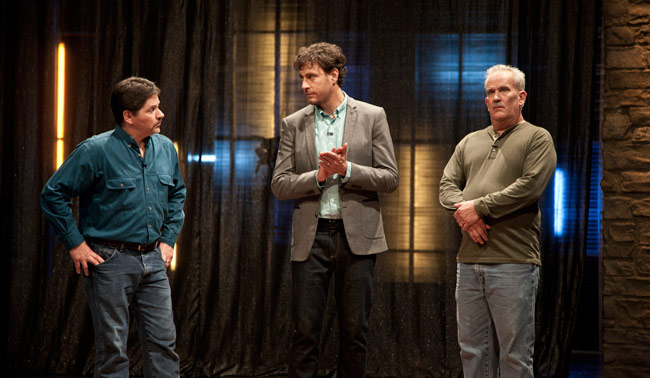 This week's episode of Immortalized begins with a jittering Zach Selwyn promising to bring us the "ultimate death match". It's finally come clear to him that the reason for his bizarre captivity is the same reason no one ever mentions prizes, and the reason for the "no endangered species" line in the pre-match pep talk.
Yes, the winner for the season gets to kill and mount Zach. Maybe in that order, maybe not. I'm sure at this point he's just praying he doesn't get turned into a mermaid princess.
Our challenger is Rick "The Squirrel Man" Nadeau of Mitchell, Illinois. He appears to have a Hunger games tattoo. He's mounted over 2,500 squirrels, and he's ready to turn it into a full time job. He can also skin a squirrel in two minutes, so doing the math on turning this into a 40 hour a week gig sounds like an extinction event for the North American grey squirrel. Good riddance.
Rick will be facing Immortalizer Page Nethercutt, who lost in episode 2. Page appears to be suppressing laughter all through the introductions. The panel is introduced, to their wordless assent. Catherine has switched back to some rocking leather trou, and I'm pretty sure Posehn has worn the same clothes since episode 1. Our secret ingredient this week is: Love and War.
I'm not sure what the judges are implying here.
The home visits are quietly disturbing. We see Page doing a crane stance, tending to some unseen farm fauna with his wife, and expounding on his personal brand of the quiet life. Rick boasts of his antisocial lifestyle and spending time with his wife and "squirrel friends", which is a term I've only ever heard on RuPaul's Drag Race.
Page's take on the theme is a broad one, in that the duality of love and war transcends species throughout nature. This is illustrated by images of Page walking hand in hand with his perky wife, and also beekeeping. If Page mounts a bee, I will be well impressed. Dave shows us a squirrel styled as a mercenary soldier, smoking a cig.
Page intends to keep well within his traditionalist wheelhouse, and will be giving us a display of the mating rituals of the California quail. Dave will be taking us back to Nam. Squirrel style. With Hippies.
As I had hoped, now that the Immortalizers are established as characters, the home visits are showing us more actual craft. Not that I'm watching this as some sort of primer, but it does add real interest to see Page actually work through various steps.
Also: Page hates cities a whole lot. If you see him, do NOT ask him for the time.
We also get to see Dave smoking up some squirrel meat in his back yard, joshing with his grandkids. Dave comes off as an odd chap, but a lot more affable than our Immortalizer.
Back at the studio, it's crate time. Page's crate has a huge ding in one side, which tells me he flew United. He's also missing a screw, which is making it hard to keep things level.
Nope, found it. Drama over, though Zach has some needling to do. Thanks.
Dave's diorama looks ridiculous at a glance, but the details do come out. Yes, all the squirrels are smoking, but the eyes of the hippie squirrels are distinctly Snoop Dogg-like, whereas you see the adrenaline in the shiny eyes of the jungle patrol. Page's critique is technical and has no whiff of the personal.
Page's display is of course technically excellent, although Catherine questions his use of a rotating platform and his defense is word salad.
The judges' comments are to the point: Page's piece lacks imagination, but shows great skill. Dave's piece is fun but bit of a mess. In the end, the home team wins handily, and Page shows good grace and troops off backstage. Dave heads home to his extended family and I assume some capacity problems with his Etsy store.
This show had nowhere to go but up, let's be frank. But I think it's going in a good direction; except of course for poor Zach.
Shortlink:
Posted by
Will Judy
on March 14, 2013. Filed under
Popcorn
. You can follow any responses to this entry through the
RSS 2.0
. You can leave a response or trackback to this entry