Immortalized, Episode 4: Your Worst Nightmare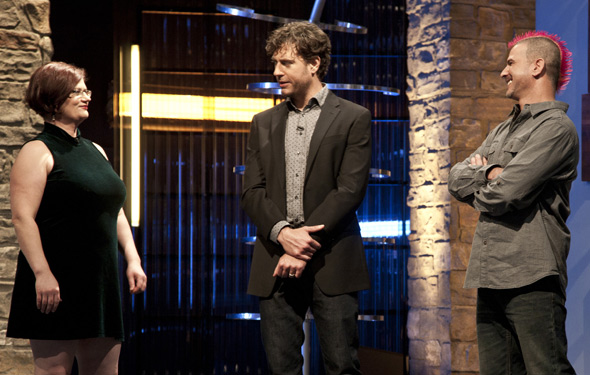 Welcome to the fourth and final gimme episode of Immortalized, a show that I am going to start treating as a hostile entity if it does not improve after we presumably meet the fourth member of the home team.
Host Zach Selwyn starts out punchy this week, and his gestures betray that he has slid into the delusion that his code has been broken by law enforcement and the rescue is on the way. You poor man.
On to our challenger, Cat Grey, whose chief weapons would appear to be a huge library of Neil Gaiman works and a belief that you can out-crazy people who do competitive taxidermy. She'll be facing off against Dave Houser, a stuffy traditionalist with a pink tweetybird mohawk. Cat eyeballs him like the secretary in the principal's office, and Zach does a human beatbox for him. That happened.
The judges' platform has been upgraded with an IKEA bear rug. Catherine Coan has determined that the leather trou and leather chair combo is not sustainable, and is letting her toned stems do the talking. Posehn is down to fart jokes, and our theme is Your Worst Nightmare. So he's taunting Zach. Cat attempts some smack talk, provoking Dave to throw a tickle-tickle tease at her. This nearly kills Zach, who is clearly at his limit and sensitive to sudden movements.
Home visit time, and if Cat is going to out-crazy Dave, she's going to work for it. Dave acknowledges that taxidermy has wrecked his family, and that he doesn't much care. Cat's take is that she just loves animals, dead or alive.
I'm not saying Cat isn't crazy. But she's much more of a Look at How Crazy I Am sort. Yes, spider horse. That's crazy. Yes, you can't talk as fast as your ideas come to you. That's a bit crazy. But it's also twee.
Dave is making an eagle out of a goose, which he just said he wasn't going to do, and he's doing it all up in some sort of 9/11 Toby Keith diorama. Dave's not unconventional, Bronyhawk aside. He's not very coherent, doesn't do eye contact, and he mutters a lot.
Cat sketches with her toes. Unconventional. Dave lives by himself and fears losing his freedom, and things in the woods. Dave might need counseling and meds.
Cat has a dude in her life, and he brings her gin and tonic to facilitate her process. He uses a wine glass, which tells me that he used to use regular tumblers but decided they were not fucking big enough.
Crate time, and Cat is scattered all over the place, but she did think to bring champagne and show a real vista of cleavage. Dave is locked in, silent and serious.
On to the reveal, and Cat's piece includes a floral print sofa and a tea party set, and a huge spider that would be a great halloween lawn decoration, presuming your neighbors already hate you so much you have nothing to lose. The legs are plainly spray-painted piping, and let's just say the overall level of craftsmanship would be hard to measure.
Yet again, and this is the single most annoying thing about the series so far, the camera never allows us to really see the piece as a whole or in any coherent detail. This might be a kindness in this case, but I'd like to know for sure.
Dave is not gracious in his assessment either, and even throws shade while introducing his own piece. Which is a weird collage of truck stop t-shirt patriotic cliches, with an ersatz eagle perched on a battlefield grave marker. The eagle is the only taxidermy piece in the display, and the placement and pose combine to give it the silhouette of a seagull resting on a buoy.
The judges hand out a bit of faint praise and some very low scores, with Dave taking it by a single point. He does a victory walk back to his pen and Zach sort of shoos Cat offstage.
I'm hoping that this is where the show finds its stride, and now that we've met the whole home team we can see some more of their process and other work, instead of the wonky getting to know you montages. The overall atmosphere of this ep was not promising, however. Between Zach's obvious fragility and everyone else's faintly stoned detachment and incoherence, it's hard to see next week's ep as anything but potential train wreck TV.
Shortlink:
Posted by
Will Judy
on March 7, 2013. Filed under
Headline
,
Popcorn
. You can follow any responses to this entry through the
RSS 2.0
. You can leave a response or trackback to this entry