Funkatron Wins Adobe AIR Developer Derby for Best HTML Community Application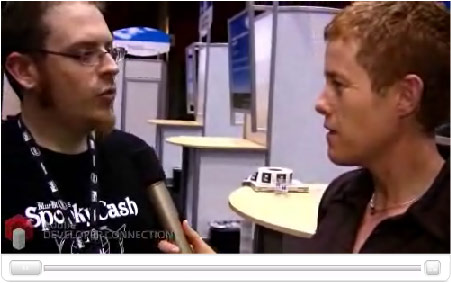 Adobe pretty much owns the digital photo processing market and they are out to conquer the market for applications to code for the web. Adobe started along this path when they acquired MacroMedia, but they are continually upping the ante. Adobe Integrated Runtime or AIR was designed to facilitate putting cool internet stuff on your desktop. The system makes it easier for developers to utilize HTML, CSS, Ajax, Flash, and PDF technology and more to essentially extend Web 2.0 to your desktop, without the end user having to learn a whole lot of new skills. Adobe's concept is that they are helping to extend rich internet applications or RIA's to the desktop. Why we need the RIA acronym instead of just calling the subject at hand "rich internet applications" is anybody's guess. My theory is that something about the web causes humans to want to acronymize things.
In order to spur interest in their new development tool, Adobe held a much-touted competition. Edward Finkler or Funkatron, as he is known on the Blue Blood boards, won the recent Adobe AIR Developer Derby prize for Best HTML Community Application. He won for creating the Spaz desktop client for Twitter. On winning the award, Ed says, "I submitted Spaz as something of an afterthought, to be honest. I had received some good feedback on it from a couple people at Adobe, but I didn't think it was all that, so to speak. Throughout the development process I avoided looking at what other developers were doing, especially other Twitter devs, because I was sure it would send me into a tailspin of despair at the bush league-ness of my own kung fu. After all, Spaz is the first "Rich Internet Application" I've written. I hadn't even written an AJAX call in any code up until Spaz. So, receiving this award is a great surprise to me, and very encouraging." He is humble, but he really is that good. I'm thinking Adobe is not exactly bush league in their ability to judge code development.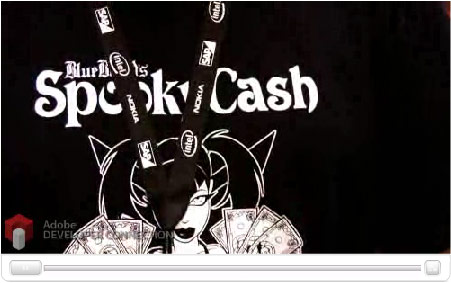 Among the many extremely cool prizes Ed got from Adobe for his display of brilliance, he was invited to the recent sold out Adobe Max 2007 show where Adobe and partners attempt to decide the future of software and the internet. When interviewed about Spaz for the Adobe Max 2007 site, Ed was rocking a shirt for Blue Blood's SpookyCash, which is the B2B (check out my acronym usage!) program where people who run high traffic sites can get paid for sending members to Blue Blood and Blue Blood-related pay sites. Represent! Whoever was operating the camera was into the Blue Blood T-shirt too, because they came in for a long close-up. You can also see the goofy picture of myself I used for my Twitter icon because of course I am on both Spaz and Ed's Twitter following and followers lists. You can keep up with Spaz developments at Funkatron.com where Blue Blood is linked under Allies with the description of "Non-retarded goth/punk subculture." Thanks, Ed.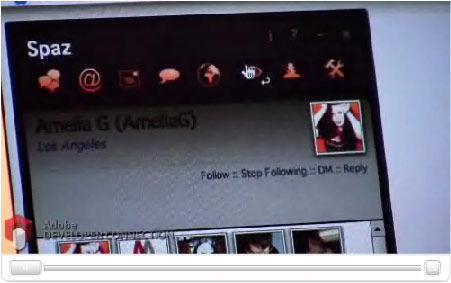 Shortlink:
Posted by
Amelia G
on October 2, 2007. Filed under
Blue Blood
. You can follow any responses to this entry through the
RSS 2.0
. You can leave a response or trackback to this entry