Is there anything Uncountry about Jason Miller?
I went to high school overseas, mostly with other children of diplomats and with the children of career military folks. And, some time after college, I ended up in the DC area, partly because my mother had been temporarily stationed Stateside. A funny thing about the Virgina and Maryland suburbs of Washington, DC is that they are an odd combination of global sophistication and, for want of a better term, redneck or country. A number of my high schools were kind of like the ones in Maryland and Northern Virginia, as that is where children like me tend to go when their parents are stationed in the USA.
Blue Blood readers may be familiar with Jason Charles Miller fronting the goth-industrial band Godhead, who Forrest Black and I worked with and reported on many times. But, as Jason says in the video for Uncountry, he has been doing country music for a while now.
The song Uncountry is fucking awesome and definitely resonates with my personal experience. Blue Blood is very much about not allowing others to put you in a box or limit your options because you like black clothing or some such. One of the aspects of having moved around so much as a kid, which I really value, is that it gave me a certain perspective. Because I didn't have one subculture or another particularly deeply ingrained to any sort of a groupthink level, I saw the common threads between my disaffected friends who listened to Lynyrd Skynyrd and my disaffected friends who listened to Bauhaus.
It would be easy to get a debate going over whether almost anyone from the DC burbs is uncountry in some fashion or not, with plausible points on both sides. Sometimes, late at night, when no one else is around, I like to watch CMT music videos. And I did play Dungeons & Dragons, while listening to Rush and AC/DC, as a teenager. So feel free to factor all that in when I say Uncountry is a great track and the video works to get the point of the song across.
Purchase the MP3 here: itunes: http://bit.ly/uncoun
Amazon mp3: http://amzn.to/uncountry

Director: Travis Oates
Director of Photography: Chris Darnell
Editor: Travis Oates
Producers: Jason Charles Miller & Leif Gantvoort
Assistant Producer: Cassie Oates
Song written by Jason Charles Miller and Randall Clay
Song produced by Jason Charles Miller
Song engineered by Derek Jones
Song mixed by Stewart Cararas

CAST:
Jason Charles Miller as Himself
Curtiss Frisle as The Manager's Assistant
Grant Imahara as Himself
William Kessler as The Attorney
Angie Savage as The Groupie/The Cheerleader
Buddy, Cooper, and Karma as The Poker Playing Dogs
And Robert Picardo as The Manager

BAND:
Lead Guitar: Russell Ali
Rhythm Guitar: Brett Boyett
Drums: David D. Diaz
Banjo: Adam Hall
Lap Steel: Ben Peeler
Bass: Jerry Montano
Keyboards: Jamison Boaz

P.A.s:
Michael John
Adrian Noriega
Geoff Bisente
Joseph Garza
Patrick Higgins

Makeup: Jennifer Jackson, Sabrina Mae
Wardrobe: Mikki Rye
Craft Services: Diana Knudsen

Artist Management: Paul Gargano (paul@paulgargano.com)

Official Website: ‪http://www.jasoncharlesmiller.com

Facebook: ‪http://www.facebook.com/jasoncharlesmiller

Twitter: ‪http://twitter.com/jasoncmiller

"Uncountry"
Music and Lyrics by Jason Charles Miller and Randall Clay
Count Mecha Music/Bike Music (BMI)
Cowboy Fabulous Music (BMI)

Song produced by Jason Charles Miller at Central Command Studios
‪http://www.centralcommandstudios.com
Song engineered by Derek Jones
Song mixed by Stewart Cararas

Musicians:
Jason Charles Miller — Vocals, Guitar, Bass guitar
Russell Ali — Guitar solo
David D. Diaz — Drums
Paul Cartwright — Fiddle
Ben Peeler — Lap steel
Jonah McLean — Keyboards
Adam Hall — Banjo

Lyrics:

I spent my summers growing up looking for bullets from the civil war
Wasn't much else to do in that old Virginia town
I bought me a Gibson got the hell out of Clifton while the gettin' was good
Started making my living with a band and a van no one understood
No one understood

Fifteen years of laying my head on a different stranger's floor
Everyday's another stage as you struggle with the pain from the night before
Drive until dawn no sleep no time to have a life of my own
'cause there's bills to pay and the only way is to keep on movin' on
Just keep on movin' on

I sweat and bleed for every dollar that I earn
I always break my back, and I never break my word
If you take a good look I bet you'd see
There ain't nothing uncountry about me

To see me up here on this stage you might not believe
That I cut my teeth on 'Country Roads' and 'The Fightin' Side of Me'
Now I'm no stranger to the pain that a hard day's work will bring you
And ask me where I got these scars, I'll be more than glad to sing you
My song of sad regret

I sweat and bleed for every dollar that I earn
I always break my back, and I never break my word
If you take a good look I bet you'd see
There ain't nothing uncountry about me

Oh I'll fight through anything that's in my way
I'm always gonna be here and I ain't never gonna break
If you take a good look I bet you'd see
There ain't nothing uncountry about me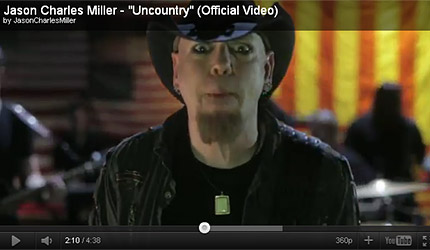 Shortlink:
Posted by
Amelia G
on September 4, 2011. Filed under
Headline
,
Music
,
Video
. You can follow any responses to this entry through the
RSS 2.0
. You can leave a response or trackback to this entry