Surviving Wasteland Weekend
Hey, do you like dressing up like a weirdo and having fun in the desert? Me too! For the third year, Wasteland Weekend is being held September 27th-30th in California City, CA. It's different from that *other* desert party because THIS is a post-apocalyptic themed throw down. Costumes must be worn at all times and you can join or build a themed camp site. And this year it is four days instead of just three. So bring plenty of water. There are some vendors but bring whatever you think you'll need, just in case.
I attended WW last year as part of the Legio X camp, a Fallout themed group. Other tribes included Mutant Hunters, Juggers, Petro Pirates, and more. I went with a friend and didn't know anyone else but I fit right in. Everyone was super fun and interesting and welcomed me with open machetes.
If you need help putting a costume together there is a guide on the site to point you in the right direction. You can base a costume off a post-apocalyptic game or movie or start from scratch. I was Princess Vault Dweller from Vault 106 last year and won First Place Replica Costume in the costume contest. What what. I was blown away by the creativity at people's costumes and it was clear a lot of hours and hardwork went in to them.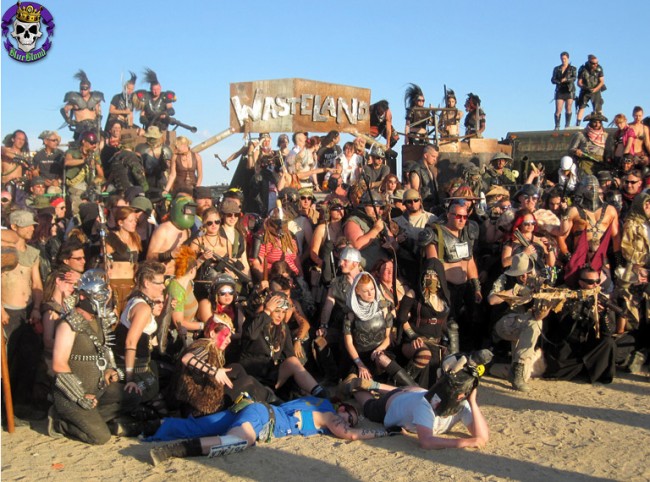 Wasteland Weekend is a four-day post-apocalyptic party in the desert. Thursday, September 27th to Sunday, September 30th, 2012.
Join the hundreds of fans coming from all over the the United States (and beyond) to gather in the Southern California desert. Set up camp at our wasteland compound, surrounded by specially-built sets. Costumes are required and post-apocalyptic campsites and vehicles are encouraged. Live for four days in a world pulled straight out of the Mad Max movies, beyond the grip of so-called civilization.
Top DJs and bands from all over will provide the soundtrack, fire dancers and bonfires will light up the night, and modified vehicles will shake the earth with their engines. Don't miss it! Tickets are available now!
This is an ADULTS ONLY event.
What's there to do at Wasteland? There are activities during the day, Feats of strength and such and free mohawk shaves(!), but the real fun happens after the sun goes down. Bands, DJs and performers come out to play and the all night party starts.
Entertainment and activities will include:
Live bands and top DJs from California, Nevada, and Arizona
Thunderdome combat and stunt performers
Fire dancers, aerial acts, grind acts, wasteland burlesque, sideshow acts and more
Post-apocalyptic vehicles from all over the country
Wasteland merchants vending their wares and services in "Bartertown"
Jugger – The post-apocalyptic bloodsport of the future
Vehicle cruises
Gyrocopter flyovers (weather permitting)
Themed games, contests, and activities
Shortlink:
Posted by
Raygun Robyn
on August 18, 2012. Filed under
Happenings
,
Headline
,
Images
,
Trappings
. You can follow any responses to this entry through the
RSS 2.0
. You can leave a response or trackback to this entry