I'm bored, fluffy, lonely and drunk. What about you?
Is it wrong that my favorite Twitter account I follow is a possibly fictional, angry and depressed (and probably drunk) teddy named Misery Bear? I love that bear. He is best viewed late at night, although, if you live in the USA, the time difference with Europe can be a bit of a bear. I say "possibly fictional" because his tweets feel more real than many by the theoretically non-fictional types I know, his site features him hanging out with celebrities, and he has a webcam in his bedroom. (How brilliant is the coding on that!) I wish you could give Misery Bear tips when he is camming the way you can tip other angry-yet-alluring individuals in their bedrooms on My Free Cams (For the love of all that is fluffy, do NOT click the MFC link if you are in any way troubled by attractive, depressed people, in their bedrooms, wearing only a collar, just like Misery Bear!) Misery Bear has even written a guide to heartbreak or love or some combo of the two.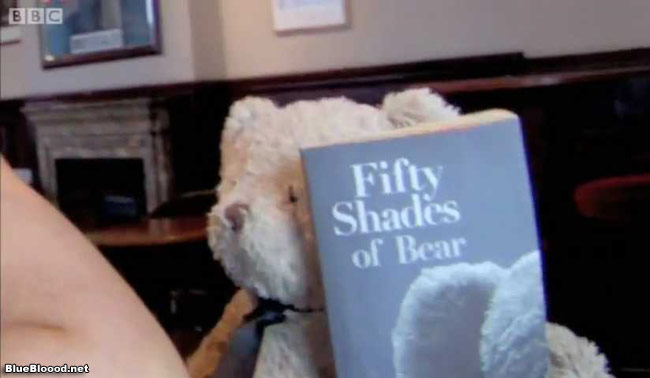 I'm posting proof that Misery Bear knows famous hotties. (He has also reportedly been romantically linked with Kate Moss.) In honor of the recent holiday, I'm also posting the most depressing Xmas video ever made. Seriously, you will never ever see a more extremely emo holiday video than this one. In fact, I'm going to post a warning that, despite the comedy tag on the front, it may make you miserable. I strongly recommend you instead watch Misery Bear get drunk and battle zombies in the video just above the Xmas one. But, for those of you with extra-emo, uber-gothic, bathe-in-suffering bonus needs, I'm still including the holiday special below.
In this video with Spice Girl Geri Halliwell, they try to make out like the babe likes the nice guy. But, let's face it, she was feeling the 50 Shades of Bear. I think she double-teddied that, if you know what I mean. (For the children. It was for a children's charity in the UK. Misery Bear even put on clothes. We'll agree not to make too much of the mascot for a children's charity being half blinded in a bar and it making him look rakishly appealing.) So I'm saying Geri Halliwell clearly got stuffed. How could she resist? I'm not saying she's a furry. They talked about furries on TMZ the other day, in this sort of context. Not a Misery Bear, Pudsey Bear, and Spicegirls threesome context, but a stuffed animal-lovin' context nonetheless. And they kept saying furry when the effing term is plushie. But I digress. TMZ usually gets their pervy terms right. Anyway, I'm calling Geri Halliwell a plushie, not a furry.
Zombie Pet Cemetery Halloween teddy bear action hero stuff:
The most emo depressing bummer of an Xmas video ever made:
And, lastly, me giving a digital teddy bear real advice on how to battle potentially fictional insomnia: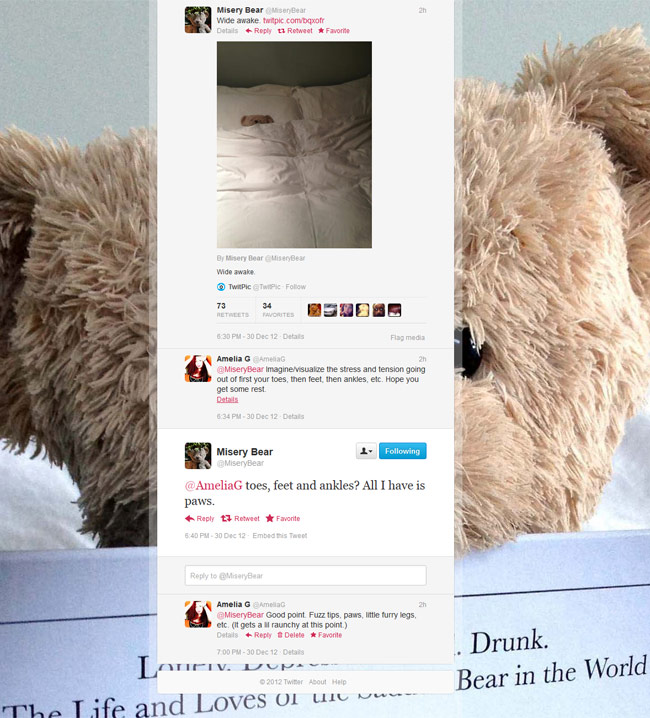 Shortlink:
Posted by
Amelia G
on December 30, 2012. Filed under
Headline
,
Personalities
. You can follow any responses to this entry through the
RSS 2.0
. You can leave a response or trackback to this entry