Toastee Still Naked on the Interwebs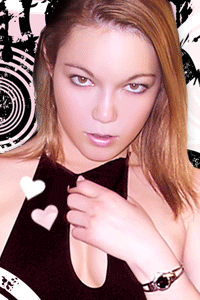 The incredibly mild fame conferred by being on a reality show opens a person up for so much unpleasantness and, as near as I can ascertain, being on the show itself is a bummer. I know I used to be pretty responsive when television shows wanted to cover Blue Blood. I turned down Jenny Jones and all the talk show scum who asked me to tell everyone I was, like, totally a vampire and gawth is like, oh my goth, my life. But, even when I didn't have cable or a TV with reception, Forrest Black and I both appeared on MTV, HBO, and FOX multiple times. I don't know if it helps sales, but, as a journalist myself, I am reluctant to refuse someone access. At least I used to be. Now I regularly turn down television show producers who tell me how much they want to give Blue Blood exposure or how they plan to present a "positive spin" on my community. I used to believe some of the promises television people made, especially when I wrote them into our appearance contracts. I used to feel like being asked to appear on a show as an expert was a compliment. In a time when people have fleeting brushes with fame for defecating on Flavor Flav's floor . . . well, who wants to be famous?
In my article Flavor Flav Has Hot Tub Love on VH1 but Ladies Best Be Nice Girls (who like threesomes) last year, I covered Flava Flav's apparently hypocritical casting aside of Toastee, one of his supposed suitor chicks. For those just tuning in now, another supposed contestant on the show ratted Toastee out for appearing in Barely Legal and on "VHS". At the time, my thought was that no one needed to worry about accidentally running across VHS video these days. Also probably no prob if the naughty pictures are engraved on the walls of a cave.
Apparently, some of y'all on the interwebs still watch movies on VHS because people kept finding my article on Toastee and her rumored VHS exploits. Either that or you were just optimistically figuring that this wonderful internet invention would provide the necessary conduit to seeing Toastee naked somehow. Now there have been a few artsy bloggers posting Halloween pictures of Toastee and the like, since the show. But leave it to the mainstream video tycoons at Vivid to put out a celeb sex tape released on both DVD and a web site.
The Vivid press release, among other things, stated the following:
The 23-year-old "Toastee" was born and raised in suburban Philadelphia and was a psychology major at Northeastern University. She appeared on the VH1 show "Charm School," vying for the affections of rap artist Flavor Flav. She was bounced from the program after it was discovered that she had done nude modeling and appeared in a porn movie under the stage name "Natalia the Scissor Vixen" known for clamping men's heads between her thighs. She has also been a guest on The Tyra Banks Show. "Toastee Exposed" was obtained from celebrity image broker David Hans Schmitt, who says "she may not have made the grade on VH1s 'Charm School,' but she gets straight as on this tape."
Although I watched Flavor of Love up until Flav kicked Toastee off, I've never seen Charm School. VH1 describes the show saying:
Ever wonder what became of the girls that were so nasty, vicious and rough-around-the-edges that even Flavor Flav didn't want them? What are those girls going to do? Where are those girls going to go? Luckily for them, VH1 had just the place to send them, a little place called – CHARM SCHOOL. Thirteen of your favorite breakout stars from "Flavor of Love" seasons one and two are back for some heated competition. Living as a group, learning as a group and out for themselves, these former Flavorettes will be rigorously trained in proper etiquette and manners before competing in challenges to determine their poise and grace under pressure.
So, uhm, it was FOL2, and not Charm School, that Toastee vied for Flav's attention on, but I guess Vivid doesn't have to watch reality television to have good distro for a celeb sex tape. After the Toastee debacle on FOL2, I did a little internet sleuthing and it seemed to me that the mistreated contestant was probably mostly a lesbian. Her MySpace lists her orientation as bi. I didn't mention it because I felt like whether or not Toastee set off my gaydar was not relevant. I forgot that we are living in the age of paparazzi intrusion at most levels of life. My bad. Whatever the reason for her lack of interest, Toastee aka Jennifer Toof told Ronaldo Horacio Mexico at Hip Hop site SOHH that she wanted to meet Flav and wanted to be on television but had no actual romantic interest in the rapper. Furthermore, she didn't think anyone else on the show, except possibly New York, had a lick of real attraction to Flav as their motivation for being there.
On her MySpace blog, after being on Charm School, Toof/Toastee posted:
Well, as you guys will find out in tonight's episode, some people are so fake, and extremely selfish. VH1 tries to create drama between people, and it's disgusting. Why do you think I didn't say anything about fol2? Because I have a contract, I`m not allowed to say anything. This show is just some bullshit, and when you're in a situation thats serious, you should never trust anybody.
Now, ignoring the part where calling the show bullshit and saying VH1 instigates the drama is probably already a violation of her contract, why would she agree to be on Charm School after being booted from FOL2? She might have been contractually obligated to do so. But the more important question is perhaps, why would an attractive (and flexible!) college graduate, with a medical school acceptance letter in her pocket, put herself through all this? Twice?
If the idea is that reality show participants are supposed to be presenting something vaguely real, only they are all just tormented souls who believe they don't exist unless they are on the small screen, how real is that? More importantly, how real is anyone's fifteen minutes then? Am I not noticing some goal these people have? What is the point of appearing on a supposedly real show where you, not only aren't supposed to promote your projects, but are not supposed to be yourself? At least Charm School gives the winner $50,000, instead of a shot at a mean boyfriend like FOL. I used to fantasize about crossing through my TV screen into a fabulous music video. When the TV screen has a bunch of women feigning interest in some lame hypocrite womanizer, my real life is a lot more like a cool music video these days than anything presented in broadcast media.
I used to believe that fame was something which glittered alluringly like fairy dust and not something I'd need to wipe off my shoe.
Shortlink:
Posted by
Amelia G
on July 8, 2007. Filed under
Blue Blood
. You can follow any responses to this entry through the
RSS 2.0
. You can leave a response or trackback to this entry