Naked Girls Smoking Weed – Best of 420 Girls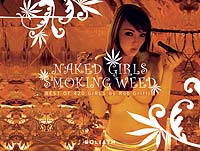 Naked Girls Smoking Weed – Best of 420 Girls is a compilation of photographer Rob Griffin's favorite images from his 420 Girls site. From the site tour, it looks like the 420 Magazine peeps got bored of updating much once they had this coffee table book out. You know how distractable stoners are.
Before the stoner-identified among you all make notes to send me hate mail, so you won't forget to, allow me to state categorically that I feel strongly that pot should be legal. I think that making something, that most people do illegal, just teaches disrespect for the laws, and makes it a lottery whether someone's life will be taken entirely off-track in a horrible way over kind of nothing. I am well-aware that caffeine is a drug and I'd be pretty sad if iced lattes got legislated against. I'd probably keep drinking iced lattes too, under those circumstances. We should have reasonable laws and enforce them. I truly believe that, if anti-drug laws on the books were genuinely rigorously enforced against all law-breakers for even a little while, those laws would all be changed. Rob Griffin, the mastermind and photographer behind 420 Girls, got a felony conviction for pot in Maryland in 1992. Being in the DC area, he was politically-aware and upset that this meant he lost his right to vote. In 1993, he says he was inspired to start 420 Magazine both to raise awareness and cover and entertain stoner culture. The 2003 crackdown on the sale of paraphernalia such as glass pipes demolished his advertising base, so he turned to the pay site business model. Voila, 420 Girls became the pay site you can join today. I really like that Rob Griffin says he is on a mission from Mother Nature and I always appreciate a good combination of education and entertainment.
Oh, and, while it is not my choice recreationally, you can be damn sure that, if I ever need chemo, I will be getting a medical marijuana prescription immediately because being nauseous is one of the things I like least in the universe. (Did I mention I live in Hollywood and California is awesome?)
Getting back to the hotness . . . the 420 Girls site still boasts thousands of photos of really hot girls, many of whom you'll definitely either recognize or sit up and take notice of, including Lexi Belle from BlueBlood VIP, Bella Starr of EroticBPM fame, pornstar Charlie Laine, fetish goddess Brittany Andrews, and a bevy of other sexy 420 beauties.
Rob Griffin's photography showcases an intimate side of these naked women, not just because they are nude, but because there is something very personal about his photographic style and compositional approach. The scenarios vary with some girls strolling nude through what looks like a forest of marijuana and some just building little Close Encounters mountains with it. Others toke up using everything from glass pipes to a giant plastic bag contraption I can't begin to guess the reason to use just to smoke pot. Sometimes the paraphernalia is what makes an activity extra fun. There is just something really entertaining about tools and accessories.
Happy 420, everyone.
Shortlink:
Posted by
Amelia G
on April 20, 2009. Filed under
Blue Blood
. You can follow any responses to this entry through the
RSS 2.0
. You can leave a response or trackback to this entry