Is Lady GaGa Naked Rolling Stone Cover Remotely Scandalous?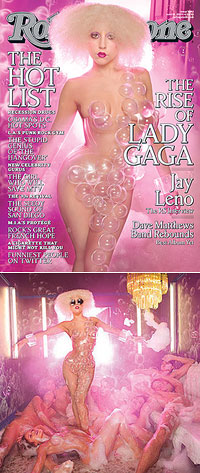 Singer/songwriter Lady GaGa appears on the cover of the current issue of Rolling Stone. The cover is shot by photographer David LaChapelle. David LaChapelle has shot many Rolling Stone covers, is known for his bright colors and elaborate sets, and started in photography taking naked pictures of club kids. Lady GaGa went to an Upper West Side high school and became a New York club kid. Maybe I am biased because I enjoy Lady GaGa's work and I enjoy David LaChapelle's work and I've spent a fair amount of time inside edgy nightclubs, but I don't get what all the fuss is about.
Rolling Stone has certainly run nakeder covers than the Lady GaGa one. Anyone remember the full nude of model Laetitia Casta on a bed of petals? It is not like you'd find artistic nudes likes these on PukingOnPenis.com. Seriously don't click that, but you get what I mean. Today, in a world where all sorts of depravity is a click away, why does a teensy bit of authentic club culture make so many people hyperventilate?
Although a certain sort of bohemian club culture has existed since time immemorial and that artistic counterculture has always made some people uncomfortable, is it really that big a deal? Or is the problem that we have come to expect pop stars to be the best-looking possible actresses hired by management teams with songwriters and stylists and something which came about more organically now seems wrong? Lady GaGa is widely credited as having written on songs for Akon, Britney Spears, Fergie, Pussycat Dolls, and oddly enough New Kids on the Block. Although I'm not sure how or if Lady GaGa is credited in ASCAP, I'd be happier if I could find her songwriting credits. Still, I tend to believe that she actually writes songs. Even if you don't find bluffin with one's muffin as entertaining as I do, surely the combination of artist and performer is still better than solely artist or solely performer. At the very least, it is not worse, is it?
From my point of view, the most controversial thing about the David LaChapelle Rolling Stone cover featuring Lady GaGa is that New York fashionistas credit the whole bubble outfit look to designer Hussein Chalayan. Although neither a bubble dress or bubble corset appear on the web site for Hussein Chalayan's 2007 collections, I've seen credible photos from his runway show stuff for that year. The designer was reportedly disappointed that Lady GaGa knocked off his design, rather than wearing the original.
So, if you'd like to recreate Lady GaGa's Rolling Stone look, you now know where to commission your own bubble outfit, if you don't feel crafty enough to make one. Then all you have to do is round up a bunch of your naked and barely-clad friends and get wet and messy. Photos optional.
Rolling Stone #1080 is on newsstands now.
Shortlink:
Posted by
Amelia G
on May 31, 2009. Filed under
Blue Blood
. You can follow any responses to this entry through the
RSS 2.0
. Both comments and pings are currently closed.