euloG.G.y – Gidget Gein RIP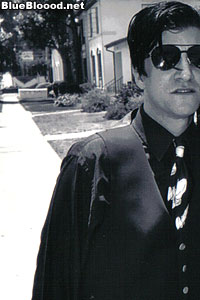 Gidget Gein (born, Bradley Anne Stewart) lived his life to the fullest,and touched countless people with his art, music, and multi-layered persona. He was a dear friend, and a close collaborator, who gave his all to projects but never lost his remarkable sense of humor. I met this amazing man just shortly after he moved to Los Angeles. Our mutual friend, Lenora Claire, introduced us when I was interested in casting him in one of my films. I was immediately struck by his whole aesthetic and by his humble personality. From that moment on, I was smitten with him and we grew to become friends and created some art together.
Gidget was best known to most people out there for his contributions to the band, Marilyn Manson, and more specifically Marilyn Manson and The Spooky Kids. He performed bass and wrote music, but it was his authentic style and aura that would later become so vital to the whole Manson aesthetic. All internal band politics and hearsay aside, his creativity would peak later and in all honesty, it was in his solo work that he would craft his own voice.
Fueled by pulp novels, blaxploitation, B-movies, pop art, drag queens, pornography, religion,and racism, Gidget began painting, silk-screening, and drawing amazing art that would become an essential part of the underground UnPop Art Movement. He played in his own band, The Dali Gaggers, for quite awhile, and also recorded solo musical projects, designed his own clothing line, Gollywood, and so much more.
His acting was amazing and his quirks made him all the more endearing. The two roles he played in my films are eerie to me now, for apparent reasons. I was very proud of him for embracing the acting bug, and more than anything else for the fact that he was clean for 9 years or so. He had been so strong and no matter what, always remained a bright and powerful force. He could always make me smile. His sense of humor was sick and twisted, but also very innocent. He was such a tender and sensitive soul. Any trouble or pain just drove more negativity into his heart, and there was apparently more hurt there than anyone could imagine.
There is no forgetting Brad. There is no way to sum up his influence or magic. There is no way to let him go. Gidget Gein is art. He is rock and roll. He is a dear friend and a cultural icon.
Gollywood forever.
Love always,
Ramzi Abed
Director, Producer
and
GOLLYFRIEND
Shortlink:
Posted by
Ramzi Abed
on October 13, 2008. Filed under
Blue Blood
. You can follow any responses to this entry through the
RSS 2.0
. You can leave a response or trackback to this entry