Heavy Red Saints & Sinners
Created to the same refined Gothic standard that built Heavy Red, the latest Saints and Sinners collection is equal parts virtue and vice. To me, and surely many of you, Tyler Ondine Whitman, the creative powerhouse driving the label, is not simply a clothier but a purveyor of confidence, precursor to seduction. This interview with her was at once a pang of the familiar and the foreign, like conversations with a first love, years later. In effect, that's exactly what it is.
Heavy Red has the distinction of being the first in a long line of decadent noir fashions to haunt my closets. At the time of discovery I was living out my awkward phase (you know the phase) in a self-imposed adolescent vow of hermitage, quite literally bathed in nothing but the neon glow of my computer screen. In an effort to prise me from seclusion, my mother all too often threw open my curtains with enthusiastic cries of "Carpe Diem!" as I groaned and shrank from the day.
Skulking the internet one night, all those years ago, I happened upon heavyred.com and arranged a liaison with my first-ever corset. As in a tryst between a virgin and a Casanova, I fumbled slow and hesitant, but the magnificent thing could only do what it was made for. It cupped my breasts with a touch smooth and firm, leaving me breathless in an embrace to put my lovers past, present, and future to shame. It made me feel beautiful. What's more, functioning as a stitch-and-steel chrysalis of sorts, it became the agent through which I abandoned my solitude to embrace the night and all that which blooms so brilliantly in darkness.
Heavy Red fans, read on and discover how you can Carpe Noctem this holiday season by taking advantage of Heavy Red's badass 2nd annual Pandora's Bag Event! To the pool of words immediately associated with Heavy Red's finery you may now add "FREE!" Surprise someone you love. Surprise yourself. It just might change your life.
Kinkaid: What muse evoked the inspiration for your Saints and Sinners line?
Tyler Ondine Whitman: I know that there are many sides to every woman, and sometimes she wants to relish in one of her aspects. How can you have good without evil? Sometimes it is necessary to set the good or bad free, before you cage it up again. I have spent many years traveling the world and documenting the counter culture. What I have have witnessed, what I have felt has changed me forever. I know that there are depths to people that when sought after, are nothing short of a revelation.
Kinkaid: Did any particular piece steal your heart?
Tyler Ondine Whitman: The Saints & Sinners Virtue corset truly embodies purity and innocence and I love the way it turned out. Another of my favorites from the Heavy Red Corset line is the Love & Fury Shredded waist cincher. The texture and color bring an edge and a passion to your ensemble. It looks even better in person. The Victorian Dalliance coat has proven to be the perfect companion for the dreary winter. It gives the wearer a warm, romantic elegance that simply shines.
Kinkaid: What was your creative process like? Do you conceptualize a singular article, or an entire ensemble at once?
Tyler Ondine Whitman: I usually picture a place, then a feeling, then I begin to understand what I should be wearing. From once the senses are heightened the outfit falls together, the fabric type, the color, the fit. It is all part of the vision.
Kinkaid: You've personified Heavy Red as a young woman, ever-changing. Where is she with Saints and Sinners? Is she more one than the other?
Tyler Ondine Whitman: With our amazing customers I would say they appreciate dark glamour, a refined mad elegance and timeless romance. I think I see them all as Saints, but I know some of them have a naughty streak.
Kinkaid: And you? How does the Saints and Sinners collection reflect where you are as a designer now, as opposed to collections past?
Tyler Ondine Whitman: I think with every new collection I am helping to redefine Gothic elegance. I aspire to create new pieces to allow each woman's individuality to not only be personified by to sow off her beauty and depth.
Kinkaid: What do you intend your clientele to feel when clothed in Heavy Red?
Tyler Ondine Whitman: Beautiful. Elegant. Bewitching.
Kinkaid: Clearly you value your fans. What imprints have they left on your choices as a designer?
Tyler Ondine Whitman: I listen to our fans and I realize that they desire more then average, that they are visionaries themselves. In their everyday lives they make the world a more amazing place to live. They rise to every occasion and I admire them endlessly.
Kinkaid: What is the most challenging aspect of your work? The easiest?
Tyler Ondine Whitman: The most challenging aspect of designing is to create pieces that will work on all different body shapes, and still produce the same result of a flattering, great fit. I have to think about the fabrics that will work with different proportions, yet not sacrifice the quality or amazing feel. I make designs that are wearable and yet tailored. The easiest part is doing this everyday. I love it and I love our customers. I am so excited with every new release to know that the clothes will leave here and embark on never ending adventures with the wearers.
Kinkaid: Your book, Chez Girls, has been described as simultaneously "dirty" and "soulful." Would you describe Saints and Sinners in such a way, or… ?
Tyler Ondine Whitman: Absolutely. I've yet to meet a person who didn't embody both. I think when you look deep enough you will see the beauty in the light and darkness of people.
Kinkaid: Dirty and soulful, sexy fairy tales, boys in ball gowns, saints and sinners. What is it about reciprocal themes that draws you?
Tyler Ondine Whitman: I feel that iconic themes stand the test of time for a reason, there is truth in them. The truth about a woman's heart, her desires, her troubles, these play a role in our daily life and become the story we tell time and time again.
Kinkaid: Is there anything you'd like to tempt us with regarding the mysterious forthcoming Pandora's Bag event?
Tyler Ondine Whitman: This is such a fun event. There is nothing like a little mystery to keep life interesting. With this event we have a chance to give presents to all our fans. We create a bag of goodies based off what we think would not only match a woman's personality, but also open her up to new styles she might not have considered for herself. After doing this event last year, we had so many comments from our customers that spoke of how they were so surprised at how these pieces changed how they looked at themselves. It is remarkable how a gift can change a person's life.
The Pandora's Bag starts on November 24th at 12:01am PST. All you have to do is place an order for $125 and you will receive a Pandora's bag filled with dark delights. For those who spend $250 they not only get the Pandora's Bag, but they also get a pair of Pandora's gloves which were designed for this event.
Here is the info on the event: http://heavyred.com/pandorasbag2011.aspx
We are also having a 50% off sale on all Last Chance items, which is great for all our fans who can't always afford all the pieces they want.
One of the most exciting parts of this Holiday event is on Sunday we will have our 2nd Annual One-of-a-kind & sample sale! This is where the fans get a chance to own a corset that no one else in the world has. The designs have a much broader spectrum then our regular collection and the people who have been begging for purples, greens, exotic patterns and so forth find their wishes have come true. The One-of-a-kind sale starts on Sunday Nov 27th at 10am PST. Last year, 50 corsets were sold in the first 10 minutes. I love the frenzy!
Kinkaid: Any parting advice for those steeling themselves against beastly yarn-and-tinsel sweater varieties, hoping to preserve a noir aesthetic this holiday season?
Tyler Ondine Whitman: Our Winter collection begins its release the first week of December, and I have to say this might be our best collection to date. So many pieces which will elevate every wardrobe. Pieces which will make your draw drop!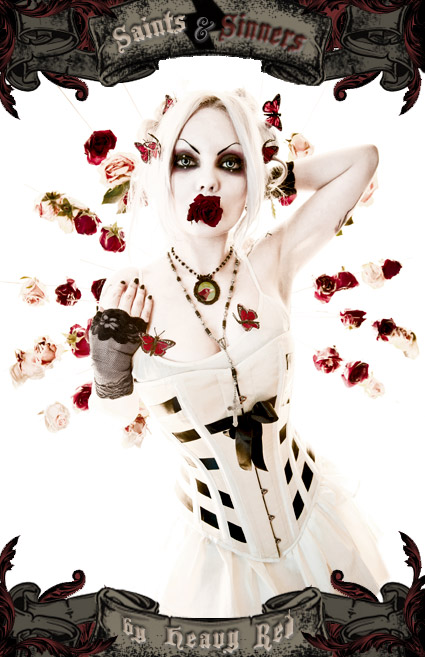 Check out the Heavy Red Saints & Sinners photo gallery
Shortlink:
Posted by
Kinkaid
on November 22, 2011. Filed under
Headline
,
Images
,
Trappings
. You can follow any responses to this entry through the
RSS 2.0
. You can leave a response or trackback to this entry