Interview with Tyler Ondine Whitman of Heavy Red
Sometimes I feel like I am just on vampire time. Something will be on my to-do list and I'll feel like darn-it-some-time-has-passed. Only it will be more time than seems possible in my gut response. Anyway, it has been on my to-do list to bring you all more fashion coverage on BlueBlood.net. So I'm going to start checking this off my gigantic to-do list with this exclusive never-before-seen interview with Tyler Ondine Whitman of Heavy Red Noir Couture. Tyler and I had a good interview and I'm sorry it took so long to get it live. In my defense, the file was called blueblood-interview, so it was not super obvious what was in it, while it was sitting on my hard drive. Without further ado, I bring you the feature interview on Heavy Red:
AG: How did you first get into being a designer?
TOW: I love clothing that looks like it is straight out of a beautifully demented dream. I wanted my clothing to look like it was from a dark cabaret ball in a haunted estate at the edge of time. Eventually that led to designing and making gothic clothing for myself. Once I got started, well, of course it became an addiction. I am still making clothes for myself, as well as the ladies, gentlemen and other creatures of the night who attend the dark balls and walk the night as elegant, tortured souls.
AG: What is your fashion/educational background?
TOW: Gothic clothing is a style all its own, so the best way to learn it is by doing it and wearing the results. I would go to Perversion, or some other club or event, wearing something I had just designed. If I felt fabulous and dark as I walked in, shadows in all the right places, like a queen of the underworld, then the design was right. I also studied at Parson's in NYC, but that was mostly for photography.
AG: What are your favorite design materials and why?
TOW: Currently, I enjoy working with gauze. It's got a lot of interesting implications, some obviously being morbid. Those implications appeal to me, I won't lie. It is also really malleable. It can be stretched and twisted in the most interesting ways. I always get faint at the sight of the perfect wool pinstripe. I am having fun with my new dresses which incorporate charmeuse, linen and satin – very form fitting, seductive and naughty.
AG: What are your favorite fetish materials i.e. latex, leather, metal, satin, silk, corsets, boots, etc. and why?
TOW: I love buckles & straps – anything that binds. When you strap something it becomes more sexy; restrained, tragic and dangerous, like Joan of Arc at the stake. I love ripping straps and sewing them on everywhere. You can never be too safe when restraints are involved…
AG: What do you find inspirational from a design perspective? Other designers, music, books, movies, etc?
TOW: The shadows on the wall of my bedroom at night are great. Sometimes I look at them and see a serial killer, and sometimes I see a beautiful skirt. I am always hoping for the skirt. Inspiration is everywhere. I look at a lot of art, because sometimes people who draw come up with the most interesting designs. They don't have to worry about things actually being worn by anyone, after all.
AG: What are your favorite fashion events?
TOW: Runway. I love watching a Tom Ford dress saunter down the catwalk. Heavy Red will be doing a runway show at some point in the near future, and it is going to be fabulous. It will be like going to the castle of the damned at the edge of the haunted forest for a huge party, with spectacular people and decadent clothing. It will be an event, and we will keep you posted on it.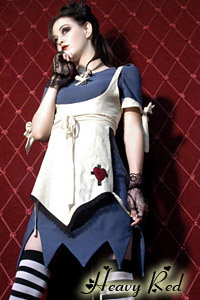 AG: What sorts of occasions do you feel your designs are best-suited for?
TOW: When you would like to be noticed by someone, our clothes are perfect for that. They are dark and sexual, but elegant. We have evening gowns for haunted midnight balls in Paris. We have shirts and skirts for going out to gothic/industrial clubs and dancing, hanging out, or other devilish activities. We have corsets, waist cinchers, and other details for layering. Whenever you want to be the princess of a dark and spooky wonderland,that is the occasion for our clothing. Each piece is designed to be sensual, lush, and sinful. The designs are simple, flattering, and darkly delicious. I really want to make people look great, and get noticed by the person they would like to get noticed by.
AG: What celebrity would you most like to dress?
TOW: I would love to dress Marlene Dietrich. She was so fabulous, and it would be a challenge to see if I could design something for her. I don't usually design with blondes in mind, so that would be another challenge. I would give anything to see her perform a song in something I had designed.
AG: What types of designs are you introducing now?
TOW: We are introducing our Winter line, and I am extremely excited. We are releasing an all new line of corsets that will make you drop dead with delight… All of the corsets are steel boned, fully lined (they look as gorgeous on the inside as the outside)with an extraordinary fit. Our dresses for this season are so luscious. They are fabulous, bold and dark. I can picture them on the Queen of Nightmare land. The skirts this season are very versatile. You can wear them to a club, to a funeral, or wherever. We also have deliciously tragic long sleeve shirts, new naughty girl gothic ties, men's shirts, and other things that I may have forgotten.
AG: Any other fashion background or particular inspirations or news or anecdotes or promo whatever you would like to mention?
TOW: We are always striving to top ourselves. The designs rely on simplicity, and a focus on flattering the natural lines of the feminine frame. We have a classic fit for woman with curves and women who want to have curves. Elegant lines mixed with raw and tattered materials. Black, always black. There will be a lot of experimentation with different bindings and fabrics. So much fun stuff. You are going to love it.
TOW: We at Heavy Red are here to create a spooky dream world for your pleasure and ours, and it is a horribly beautiful thrill. I am honored to be part of the Gothic community and I love having the opportunity to dress you. The response I have had to Heavy Red has been stunning, and I just want to thank everyone. I am going to strive to continually make great clothing for all of my dark and tortured peers.
Shortlink:
Posted by
Amelia G
on September 28, 2007. Filed under
Blue Blood
. You can follow any responses to this entry through the
RSS 2.0
. You can leave a response or trackback to this entry