Heavy Red on Auxiliary Mag Cover, Xanthia Inside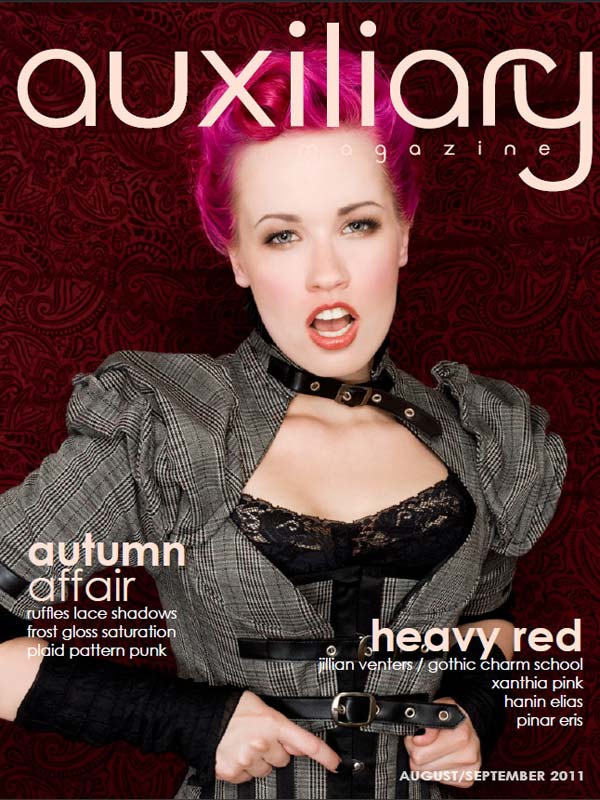 The new August/September issue of Auxiliary Magazine is out now. The cover features designs by Tyler Ondine Whitman of Heavy Red fame and is photographed by Jennifer Link. Inside there is also a feature interview where writer Vanity Kills talks with Heavy Red's head honcho about the history of the company, the inspiration for the understated elegance of the Swim Noir black bathing suit line, and what to expect from Heavy Red in the near future. It is an interesting read for gothic fashion aficionados.
Blue Blood's own Xanthia also has a photo spread with a mini profile. Other highlights of the issue include frosty makeup for winter, glossy smoky eyeshadow, and tartan style.
Check it all out for free in the linked PDF or embed below.
August/September 2011 Issue out now!
The August/September 2011 issue is the seventeenth issue of Auxiliary, a magazine dedicated to alternative fashion, music, and lifestyle.  This issue features a designer spotlight on Heavy Red, an interview with Hanin Elias, an editorial by Jillian Venters or The Lady of the Manners of Gothic Charm School, and Xanthia Pink in GirdleBound as our PinUp.  The issue also contains a hide and seek film fashion editorial full of playfulness, a plaid and punk fashion editorial featuring designs by Pinar Eris, a beauty editorial of saturated glossy and frosted hues, a salvaged decay Style feature, and a Black Theorem installment on the legalization of gay marriage.  It features photography by Jennifer Link, Saryn Christina, Brent Leideritz, H. James Hoff, and Donnor and fashion from Retroscope Fashions, Fluevog, Crisiswear, Moda Industria, Made by Anatomy, Savage Salvage, and much much more.

You can download it for free at :
www.auxiliarymagazine.com/issue17/AuxiliaryMagazineAugust11.pdf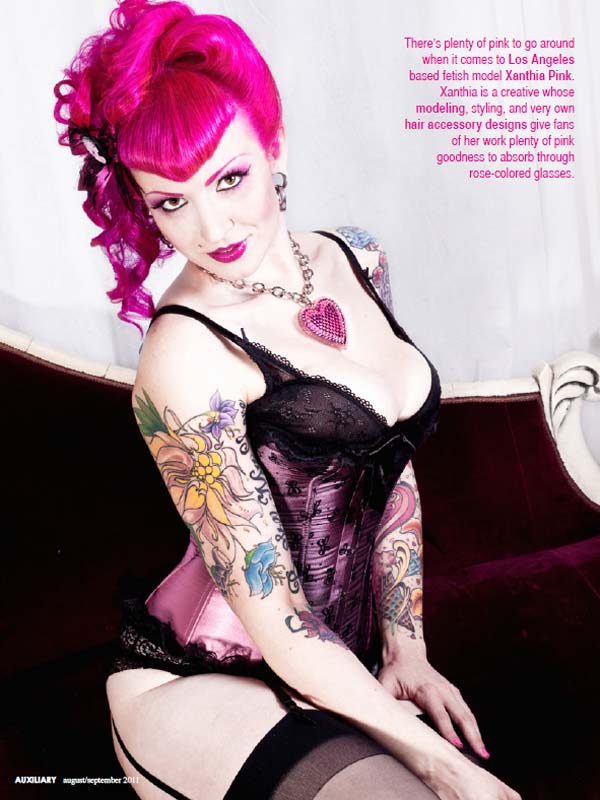 Shortlink:
Posted by
Amelia G
on August 12, 2011. Filed under
Books
,
Headline
,
Trappings
. You can follow any responses to this entry through the
RSS 2.0
. You can leave a response or trackback to this entry