Cookie Monster was the first bad boy I ever loved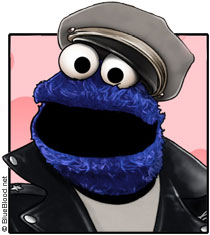 Cookie Monster was the first bad boy I ever loved. I adored his unfettered capacity for pleasure. He was deeply into consuming cookies and he didn't care who knew it. If there were no cookies available, he would eat a cardboard circle if he had to. He would eat that cardboard circle with no shame. He was so ready for anything, he would eat the moon, if he could get to it. The scope of his desire was infinite and proud. He could see no 12 steps coming. He was Cookie Monster and he was prepared to shout his joyous desire aloud. If you baked him a flat crisp cake of sweetened dough, he would let you know how much he enjoyed it. You wouldn't have to wonder whether he was experiencing pleasure because he would let you know about it and he didn't care who was watching. Cookie was the kind of Monster where you had to understand he might take just as much joy from someone else's baking. He wanted cookies and he wanted them from everyone he met. But, if you didn't require monogamy of him, there was no one else with such contagious happy hedonism. CM's turn as Alistair Cookie on the intellectual Monsterpiece Theater showed his smart side, but it was still his intense googley-eyed passion which inspired us all. Cookie just knew how to make people feel good. He embodied unrestrained id in its most beautiful and fulfilling form.
Sure I enjoyed the curmudgeonly insight and willingness to speak his mind exhibited by Oscar the Grouch, but it was Cookie Monster I dreamed about. It didn't matter if he was a little heavy around the waistline. His charisma overrode all that. He made everyone around him share his sense of satiation as they marveled at the magnitude of his consumption. This was why all the girls and, let's face it, the boys loved Cookie Monster. As time went on, he was even idolized by a new generation of entertainers such as Bart Simpson whose cowabunga catchphrase is an homage to his blue predecessor. Despite his lifestyle, or perhaps because of it, Cookie has been beloved enough to be welcome everywhere from celeb galas to the White House. He campaigned for milk, but only as something to wash cookies down with.
Somewhere there is a photo of my father in a hallway at our home in Scarsdale, New York posing like Cookie Monster to entertain me. His musician's ear gave him the ability to do the Cookie Monster voice so well, although he wasn't down with pigging out or the whole making crumbs thing. I have so many happy memories associated with Cookie Monster. I don't see him as much as I used to, but TiVo lets me slip off to visit him at Sesame Street from time to time, no matter what is going on in my regular day-to-day life. He is always the same and he always makes me smile. If it is his fault that I overeat as an adult, I love him too much to care.
Some time ago, The Daily Show with Jon Stewart ran a special report about whether Cookie Monster was a bad role model for children. The show suggested that maybe children were overeating sweets because they saw their fuzzy blue hero do it. They interviewed a child chomping a large cookie. They showed one of the show's reporters, Steven Colbert or Ed Helms I think, chasing after a Lincoln Town Car trying to get a comment from a blue figure in the back who never makes eye contact. I laughed out loud. I might have moved on to more mature relationships myself, but Cookie Monster was still a rock star, still doing it his way. No one was going to tame my Cookie or tell him what to do.
So you can well imagine my horror when I saw the recent press info. They make no mention of the Daily Show segment, but they make it clear that Cookie Monster is now being forced to promote vegetables and sing a new song called "A Cookie Is a Sometimes Food" to teach healthier living to a new set of fans. Maybe he is bowing to media scrutiny. Did he sell out because of Sesame Street's new business partnership with Earth's Best health foods? I like to think he wouldn't do that, but maybe he blew all his early paychecks on baked goods and really needs the money. Maybe he got busted boosting something tasty fresh out of the oven and this is part of his community service. I just can't see my beloved Cookie doing this willingly. McDonald's is one of the underwriters of Sesame Street, so I feel like there is something truly insidious about curtailing Cookie Monster's one true pleasure. How much do they really care about health if they are taking money from Mickey D's? Something just does not add up. The Sesame Street site now showcases a game, sponsored by the letter G, which is called "Toss a Salad with Cookie Monster."
Maybe Cookie Monster is just getting old. I guess we all age faster than we want to. As the years go by, the cookies take a greater toll. The big CM is turning 36 now. DJ Larry Levan of New York's legendary Paradise Garage, who mixed the smash hit Cookie Monster and the Girls LP, died when he was only 38. Rock stars usually have to die at 27 if they want to be remembered at their best, but Elvis still gets painted as he was young and beautiful, snarling and full of life, ready to take on the world. I will choose to remember Cookie Monster at the height of his fame and success, as my blue hero who belted out "C is for Cookie" for the whole world to hear.
Shortlink:
Posted by
Amelia G
on July 19, 2006. Filed under
Blue Blood
. You can follow any responses to this entry through the
RSS 2.0
. You can leave a response or trackback to this entry