Hollywood Hooters Hello Kitty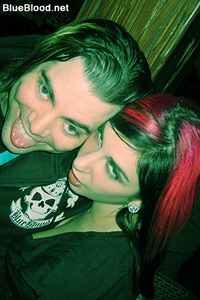 Blue Blood's SpookyCash webmaster affiliate program sent yours truly and Forrest Black to the XBiz Hollywood show. As the XBiz show was this past weekend, I was reminded that I had some entertaining snapshots to post of the fun we had. (Footnote: Webmaster affiliate programs are what people with sites reaching thousands of visitors use to, ya know, make money.)
The first night of the webmaster show, we went out to dinner with my friends Lange and Warren. I tried to convince them to go to a restaurant called Koji's. Koji's serves sushi and shabu and features pretty good food in a kind of weird mall setting. Some of the same folks who Disneyfied Times Square built a structure called Hollywood and Highland adjacent to the venerable Mann's Chinese Theater and across from the Disney one and the historic Roosevelt Hotel. Hollywood and Highland features a variety of paid street performers dressed as costume characters and it is a mall, but Koji's is tasty. Nonetheless, when Lange and Warren realized I was directing us through a mall, they nixed Japanese food and peer pressured me into going back across the street to Hooters.
I've never been to Hooters before, but there had been an open bar by the Roosevelt Hotel pool earlier, so I was feeling tipsy agreeable. At the time, we all thought our waitress was super hot. Warren offered to put her in Penthouse and she giggled and he was like, "no, seriously, I'll put you in Penthouse." It seemed like she thought he was joking, but he wasn't. Warren really does shoot for Penthouse. Actually, come to think of it, Forrest Black and I have both shot for Penthouse as well, but Warren has the uber hook-up there to the point where a party at his house isn't over until the pool is chock-full of Penthouse Pets. Some place I have the snapshots to prove that too. But not at Hooters on this particular night. Now that I look at the Hooters snapshots, the waitress looks only okay. Maybe she smelled really great. Maybe Lange just had her keep the beer flowing to the point where I also thought Hooters food was surprisingly delicious. (More on this later.)
We went to a party after this at The Ritual Supper Club. I think the primary occasion for the party was the CyberSocket gay web awards, but Stella Artois says I may or may not be particularly specifically accurate on this point. The Ritual Supper Club has been known variously as Ritual, White Lotus, the local bus station, etc. and is a Hollywood hotspot where A-listers like Mark Wahlberg can go to bang porn stars cast for the next season of Entourage on HBO. Luminaries in attendance included Chi Chi LaRue, Anders Manga, Joanna Angel, Mario from Stockroom, Halcyon Pink, Ashley Steel, and of course Forrest Black and Amelia G.
XBiz then threw a really cool seminar with talented filmmakers Joone and Andrew Blake. I tend to be really turned off by most of what the mainstream of Porn Valley churns out, but Joone and Andrew Blake are seriously good at what they do and bring a real artistry to their work. Later there was a really painful speech from one of the guys responsible for the Penthouse acquisition. He was going on about his mainstream credentials and, although he has an impressive background in some respects, I just think of maintream as a pejorative. And I find it really tiresome when people make a huge distinction between what they perceive as their adult work and their "mainstream" work. I always wonder if they just think they can phone it in as soon as exposed breasts are involved. Monetizing media is monetizing media. The reason so few adult videos produced can touch Joone or Andrew Blake is that some people think they do not have to bring their A game if nudity is involved. Heck, some people even believe they should not. I'm personally a fan of doing a good job of whatever one does.
I certainly know some club kids who are fucking awesome at being fabulous club kids. Forrest Black and I ran into journalist Gram Ponante as we snuck out of the Penthouse keynote. We had a conversation about some of the more wannabe upscale webmaster events. I have started skipping this variety of velvet rope-oriented shindig, even though I adore some of my friends who attend and throw such parties. I'm fine with genuinely upscale and I'm fine with a real velvet rope whether it is glam rock disco or casino VIP, but
I only enjoy such things if they are the real deal. I tell Gram that I like my club kids to be professionals and that watching internet professionals mack at being club kids is not my idea of a good time. This lead to me being horrifically misquoted, but, hey, at least I made the front page his site and it was kinda funny and we were all operating on not a lot of sleep.
For an example of an event I was definitely down for, Vic DiCara from the seminal Hindu-infused hardcore punk band 108 took a whole bunch of us out to dinner afterward and we had a really great evening. Ross Horowitz of Shoot Out the Lights fame drove me, Forrest Black, and his beautiful companion over to Koji's. Now you all might be recalling that I mentioned walking to Koji's at the beginning of the weekend. Yes, it was walking distance and, no, we were not that partied out, but Ross just bought a black Rolls Royce, so it was imperative that we drive to Hollywood and Highland. After making me go to Hooters, Lange of course was the first person I saw when we got to Koji's and I gave him grief about it, but forgave him when he introduced me to photographer Chris Cuffaro whose band photography I had published in Blue Blood magazine in print years ago, but who I had never met in the flesh before. Unsurprisingly, given the proclivities of the guest list, we all talked about music most of the night. At one point, Vegas Ken from The Best Porn told an anecdote about working in an emergency room and maybe not being startled by the horror in the same way that probably no one at the table was startled by naked people any more. But mostly we chatted about music and music biz.
I forget whose party we went to after that, but the next afternoon found us at Hooters again. I had not been to eat at Hooters twice in my entire life.
We had lunch with a plethora of cool folks on the various days of the XBiz webmaster conference, but Hooters made the buffet brunches at the Roosevelt Hotel seem yummilicious. And they were not particularly gourmet buffets. Hooters food is absolutely revolting if one has not consumed the proper number of refreshing adult beverages beforehand. The weird MSG-style flavor enhancers at Hooters made my tongue swell and the flavor of everything I tasted there seemed sickening. Forrest Black consoled his annoyed tummy after Hooters with the purchase of a stuffed Kuromi plush. In the unlikely event that you are somehow unaware of this, Kuromi is Hello Kitty's new punk rock gal pal with the fetish hat.
In conclusion, after enough beer, Hooters chicken wings and shrimp are tasty and Hooters waitresses are delicious, but you really need serious beer goggles to eat that food. Well-prepared Japanese food, Rolls Royces, and Hello Kitty dolls may be enjoyed while entirely sober. I think this may illustrate some of the quintessential truths of the universe.
Shortlink:
Posted by
Amelia G
on July 15, 2008. Filed under
Blue Blood
. You can follow any responses to this entry through the
RSS 2.0
. You can leave a response or trackback to this entry