Judgemental Miss California Busted for Naughty Pics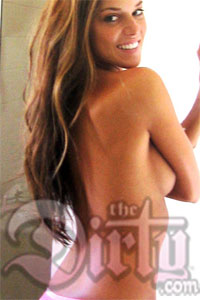 Yesterday, gossip site The Dirty reported that they have exclusive nude photos of Miss California Carrie Prejean. Now the winner of Donald Trump's 2009 Miss USA pageant on NBC is Miss North Carolina Kristen Dalton, but Miss California Carrie Prejean is likely to be the name you've been hearing about.
I don't know if there is a Good Judgment category in pageants, but, if there were one, Carrie Prejean would get awfully low marks. One of the Miss USA judges this year is famous (and openly gay) gossip blogger Perez Hilton. So Perez Hilton asks Miss California Carrie Prejean what, in light of Calfornia's Prop 8 debacle vs. other states legalizing it, she thinks about gay marriage. Let me just repeat here that Perez Hilton was one of the judges. So, in a show of what people who live in glass houses should not say, Miss California Carrie Prejean said, "We live in a land where you can choose same-sex marriage or opposite. And you know what, I think in my country, in my family, I think that I believe that a marriage should be between a man and a woman. No offense to anybody out there, but that's how I was raised."
CNN reported "Prejean announced last week that she would star in a new $1.5 million ad campaign supporting what she called "opposite marriage" (marriage between a man and a woman) funded by the National Organization for Marriage." And of course the naughty pictures surfaced. What was that about casting the first stone and being without sin and all that jazz?
Graphic designer Chad Serrano, who is in my pal Sabrina's Fabulous Book Club for Fabulous People, says he would totally support the National Organization for Marriage type folks if they opposed divorce as heartily as they oppose gay marriage. If no National Organization for Marriage or pro-Prop 8 person ever got divorced, then it would be reasonable for them to excuse homophobia and being bigoted morons as being pro-marriage. Good point.
Then again, NOM is a group who chose as their spokesperson . . . a judgmental naked pageant chick who claims to be in favor of "opposite marriage". I just wish the people from Opposite Land (really Vista, California), where she apparently from, is from would stop voting in California elections. Oh yeah, and Miss California Carrie Prejean does have a completely valid excuse for having posed for naked pictures and never mentioning it. She was like totally tricked. Uh huh.
Shortlink:
Posted by
Amelia G
on May 6, 2009. Filed under
Blue Blood
. You can follow any responses to this entry through the
RSS 2.0
. You can leave a response or trackback to this entry