Marge Simpson in Playboy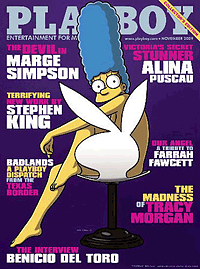 So the nice girl next door at Evergreen Terrace is going to be sort of taking it off for Playboy. A Playboy spokeswoman seems to indicate that Marge Simpson will only be showing implied nudity in her three page pictorial, despite having landed the cover of Playboy for all newsstand copies. (Subscribers will get a non-cartoon celebrity on the cover. No word on whether it is a naked celeb.) The old saying goes, implied nudity is a lot like implied food. I don't a hundred percent agree, but it seems like doing Playboy should equal conservative nudes because that is their format. Unless Marge were just doing an interview, in which case I'm not sure about her being the sexy covergirl, much as I love The Simpsons.
I think a number of people keep saying Lois Griffin from Family Guy should do Playboy next, because they know Lois Griffin would actually show the goods. Let's be realistic here and see that Lois Griffin would be a great fit for Hustler. Regardless, Marge Simpson doing Playboy is a very cute way to celebrate The Simpsons 20th anniversary. Yup, The Simpsons have been on the air for twenty years.
Playboy CEO Scott Flanders, who replace Hugh Hefner offspring Christie Hefner this summer, states that he is really excited about having a cartoon on the cover for the first time because he really wants to bring in a younger audience. Yes, you read that correctly. I don't know if he is any relation to Ned Flanders, but he does think that The Simpsons will really bring in the under-35 crowd. According to The Chicago Sun-Times, based in the city where Playboy is headquartered, CEO Scott Flanders thinks Playboy's current audience is around thirty-five because of shows like The Girls Next Door. And putting a cartoon's twenty year anniversary on the cover will bring in a younger audience. It's not like he's putting Abby the Cow from Nickelodeon's Back at the Barnyard on the cover.
Given that The Simpsons came out of the underground and alternative comics world, it started off with an audience which would have been offended by the suggestion that cartoons are for kids. The Simpsons manages to be more subtle than others who have followed in its yellow animated footsteps, so kids can watch it, but the point was always that The Simpsons was also more sophisticated.
Raise your hand if you remember Life in Hell from before The Simpsons. Are you in your twenties? Yeah, didn't think so.
Playboy is a brand which has always had such a genius for branding that it seems odd and unsettling to watch them flounder. Like when your first older relative or mentor starts to forget things or have random outbursts.
Putting Marge Simpson on the cover of Playboy is an awesome promo. Just not a promo which is actually designed to bring in readers born the same year as Bart Simpson. Bart read Playdude because he found Homer's stash.
Shortlink:
Posted by
Amelia G
on October 10, 2009. Filed under
Blue Blood
. You can follow any responses to this entry through the
RSS 2.0
. You can leave a response or trackback to this entry