Keanu Reeves in a live action Cowboy Bebop?
In an odd assortment of synchronicity, I was recently having conversations about both Cowboy Bebop and Keanu Reeves as an actor, albeit not linked conversations. Tonight, the Twitterverse is trending Cowboy Bebop hard. The talk of the digital town appears to be that Keanu Reeves is attached to possibly play Spike Siegel in a live action movie version of Cowboy Bebop. Keanu Reeves, a longtime anime fan, has actually mentioned this in interviews for years, so not clear why folks are all jumping up and down about it today in particular.
If you have ever lived in a group house with a bunch of flamboyant personalities, or if you like animated films in general, anime in particular, science fiction, cyberpunk, or almost anything remotely pop culture or counterculture cool, you should probably see Cowboy Bebop. Cowboy Bebop actually made me leave the neighborhood video store behind. I was in the middle of the series on DVD and stopped by the video rental store to return the most recently watched one and rent the next. The security guard decided that, as the store was closing in like half an hour, I would probably take too long to find what I wanted. And he grabbed my boob. And their central corporate headquarters never called me back. So I got a Netflix subscription and HBO and Showtime and I think that whole video store chain is out of business now. So everybody got what they needed. I love happy endings. Cowboy Bebop is absolutely worth an altercation with a security guard and is just a really great watch.
For the record, I think Keanu Reeves is one of the most underrated actors working today. My theory is that it is kind of like what happened to Robert Downey Jr. The latter brilliantly portrayed an end-of-the-line selling-himself-for-a-fix drugged out mess in Bret Easton Ellis' Less Than Zero. So people sort of conflated that character with Robert Downey Jr.'s real life struggles with drugs, alcohol, and the law, and thought of them as way more appalling and out of control than they were. Similarly, Keanu Reeves just did a bit too good a job in the Bill and Ted movies, so people conflate his character with him and, no matter how varies the roles he chooses are, people always secretly suspect that he is really a dopey surfer dude. Even though my central area of study for my English degree was the evolution of literature, I'm not always a fan of one medium adapting something very successful in another. Some stories are told better in one form than another. That said, I honestly think, if Hollywood must make a live action version of one of the best anime series of all time (possibly the best), Keanu Reeves strikes me as a fine choice for the leading man.
PS Forrest Black and I shot Aiden Starr doing an homage to badass gambler Faye from Cowboy Bebop.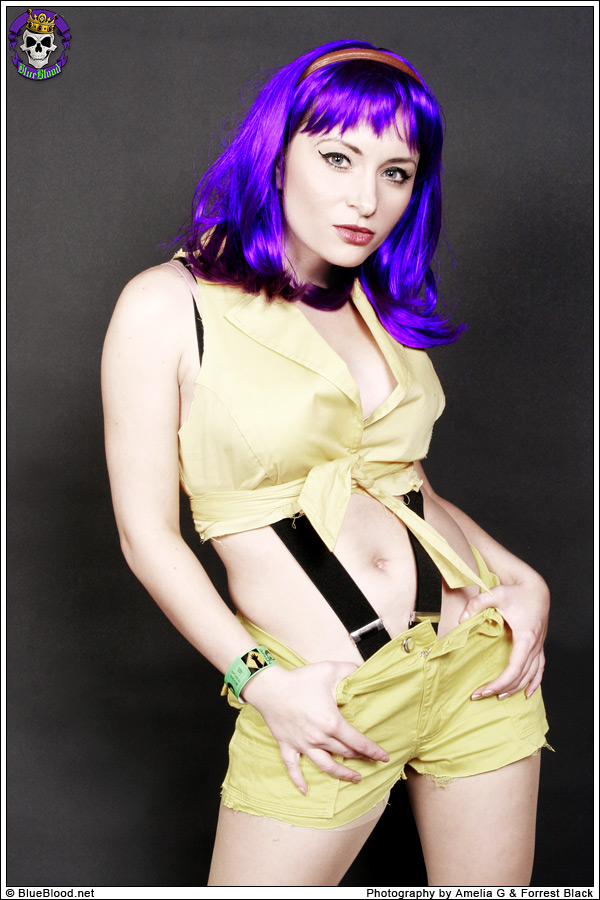 Shortlink:
Posted by
Amelia G
on February 27, 2011. Filed under
Popcorn
. You can follow any responses to this entry through the
RSS 2.0
. You can leave a response or trackback to this entry