Spooky Athena Hollow
I always like working with people who do more than one thing. I will pick multifaceted hotness over just-ad-model every day of the week. Athena Hollow, among other things, does affiliate site promo.
The SpookyCash affiliate program pays people like Athena Hollow for sending members to Gothic Sluts, Erotic Fandom, Barely Evil, Erotic BPM, the Blue Blood VIP and other sites published by Blue Blood and friends of Blue Blood. This is a great system for people who have webzines with a lot of visitors or popular Twitter profiles and such. A lot of membership sites beg for links or even demand them, but SpookyCash shares the wealth whenever your links result in members signing up. (I'll be happy to assist any BlueBlood.net reader who is unfamiliar with affiliate promo, but has a high traffic site or profile.)
Anyway, SpookyCash printed some really cool T-shirts, which I love. So I sent 'em to my favorite SpookyCash affiliates. Athena Hollow is a personal fave, so I sent her one. And she took naughty pics of herself in it. A happy situation for all.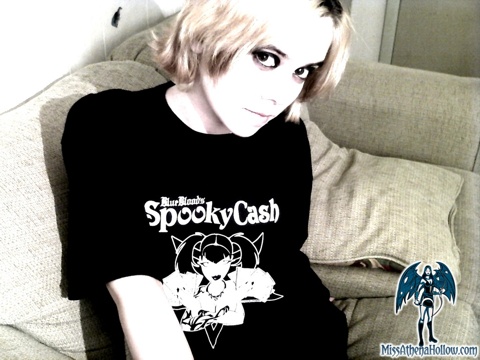 I <3 SpookyCash! by Athena Hollow As some of you know, I'm not just a webmaster and porn maker, I also run affiliate websites. One of the affiliates I promote is BlueBlood's SpookyCash. I checked my mail the other day and there just so happened that I had a brand spankin' new SpookyCash t-shirt. YAY! So, here it is both on and off of me icon smile I <3 SpookyCash!
Shortlink:
Posted by
Amelia G
on September 26, 2011. Filed under
Headline
,
Sex
,
Trade/Business
. You can follow any responses to this entry through the
RSS 2.0
. You can leave a response or trackback to this entry