Cam Girls and Sex Clowns at Exxxotica
Sometimes the cyberpunk promise of the internet really comes true. A few years ago, people were still laughing about how science fiction had prophesied video phones, only of course nobody wants to be on video while they are talking. Today, all my more corporate friends skype and most of my more naked friends cam. Go figure. Yay, science fiction.
This weekend, a friend messaged me a link to MFC because they were broadcasting live from Exxxotica in Miami, Florida. Rather than setting up a specific stream for the show, they brought a whole coven of their popular cam girls and had them set up on the convention floor with their laptops. MFC is always free to view. It uses a sort of hybrid of tipping and crowdsourcing for more erotic shows. For example, a chat host could say she will do a particular performance once she hits a certain goal for number of tips and then everyone benefits from the combined tips of everyone in her chat room. I am particularly interested in crowdsourcing at the moment because of my California Deathrock Kickstarter project. I'm also really fascinated by the idea of being able to digitally experience an event, without actually flying to sticky hot Florida in May.
I really liked that one cam girl in particular, a Miss Lollipop, used the opportunity to really show what her attending the convention was like. Complete with fabulous sex clown trying to bogart her camera. Miss Lollipop explained the individual broadcaster concept to him and once Pita von Doom or Dieter bon Bloom or whatever the goth clown's name was realized there was an audience there, he was all down for the attention. I'm not sure if Miss Lollipop's hundreds of fans (she is very popular) in her chat room were totally thrilled by the information that clown boy was about to have sex with a bunch of guys and possibly a couple girls too, but it surely was entertaining. As Blue Blood has exhibited at a lot of such shows, I can vouch that this was a very realistic presentation of the random surreal interactions that tend to go down. Maybe by the next time I do it, we'll be broadcasting from our booth. If you check out MFC, now that Exxxotica is complete, there shouldn't be anyone more unexpected than a pet cat wandering into the camera frame, but it is still entertaining and free.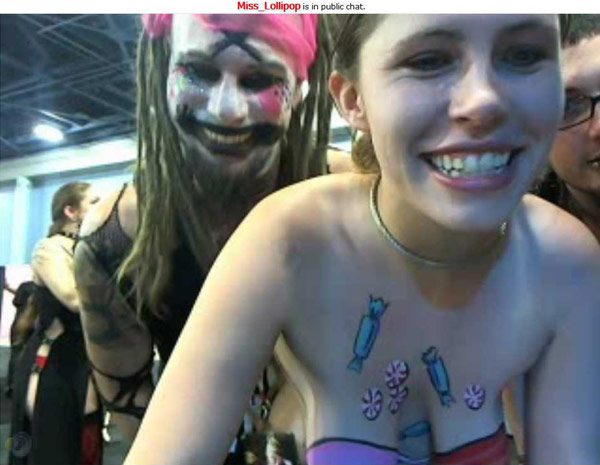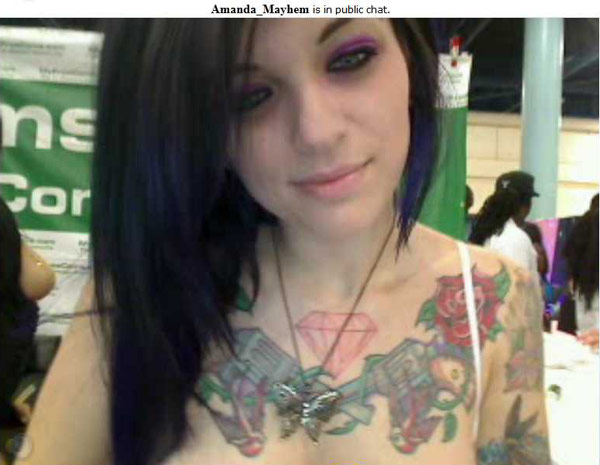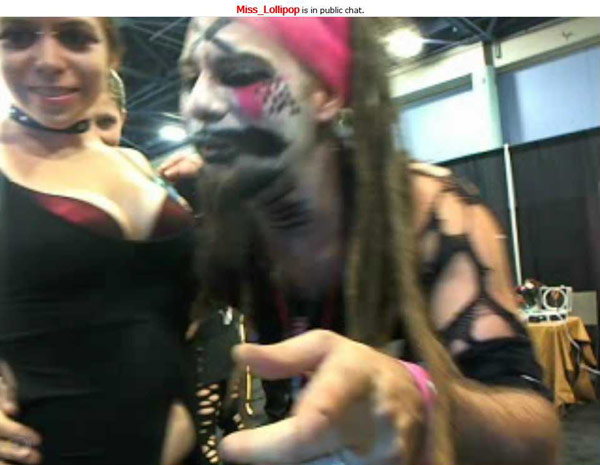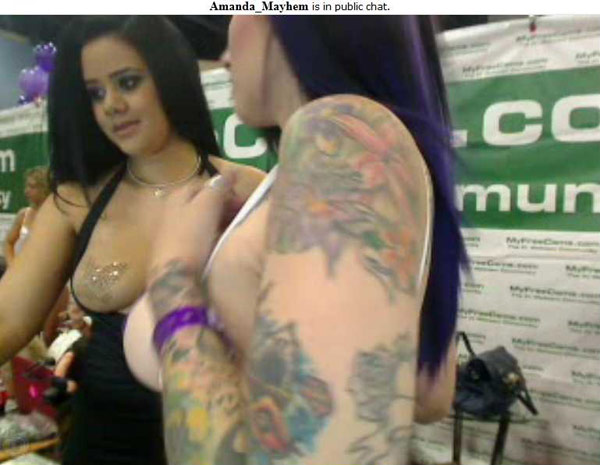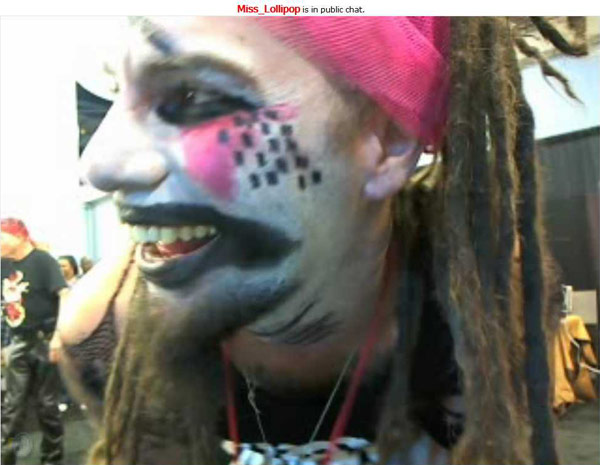 Shortlink:
Posted by
Amelia G
on May 21, 2012. Filed under
Happenings
,
Sex
. You can follow any responses to this entry through the
RSS 2.0
. You can leave a response or trackback to this entry