Interview with Brilliant Multi-Media Artist Louis Fleischaue​r
Louis Fleischaue​r was kind enough to provide a special custom set of his wearable art couture for a Blue Blood shoot with the very beautiful Kellie LaPlegua, seen below. Although, of course, Louis Fleischaue​r AMF Korsets has been featured in basically every fetish magazine in the world (and I've covered him in a few such venues myself), his work is really high art. Louis Fleischaue​r always has a concept behind his creations. I think of his art as primarily sculptural, but he really creates across a remarkable variety of media, including performance art. Next week, Louis Fleischaue​r is doing a whole concept piece at his Symphony of Flesh event in London. You can see a bit more about the upcoming show on the Symphony of Flesh part of the Aesthetic Meat Front site or check out the Flying Dutchman London venue or at louisfleischauer.com. You can see a free gallery of Kellie LaPlegua wearing AMF here or the whole series in the Blue Blood VIP. Here is a bit of background on Louis Fleischaue​r's inspiration and thoughts behind the designs Kellie LaPlegua is wearing here, straight from the man himself.
Amelia G: What is the name and concept of this piece?
Louis Fleischaue​r: The Hood is called Hypocrisy, which I made for a group gallery show about the "8th Deadly Sin"
The concept behind this the following: Every time to engage in an act of hypocrisy you act against your own believes and principles and thus against your personal evolution. The moment you stop to evolve you become stagnant and stagnation equals death. The piece is a mirror of a tortured spirit, covered in tongues, which pull the spirit in too many directions. The 3rd eye in the center of the piece is only a dried up wound. On the backside is a giant mouth, sewn shut which resembles the inner voice which has been silenced.
Amelia G: How does it fit into the larger series of related artworks?
Louis Fleischaue​r: Most of my work is about transformation. What you wear has a direct influence on your self, it can make you feel empowered, (un)-comfortable, free/bound to name but a few. With my wearable pieces I provide a tool that can be used towards personal transformation. The Hypocrisy piece is a statement against stagnation.
Amelia G: Sculpted leather is an unusual medium. What lead you to work in it?
Louis Fleischaue​r: I'm a sculptor by heart and I do have a weak spot for leather. It is a natural material, every piece is different and feeds me with new inspiration. Sculpting is a process where I can truly become one with the material, I form it with my bare hands, I could never reach that same level of trance, if I had a sewing machine between me and the medium.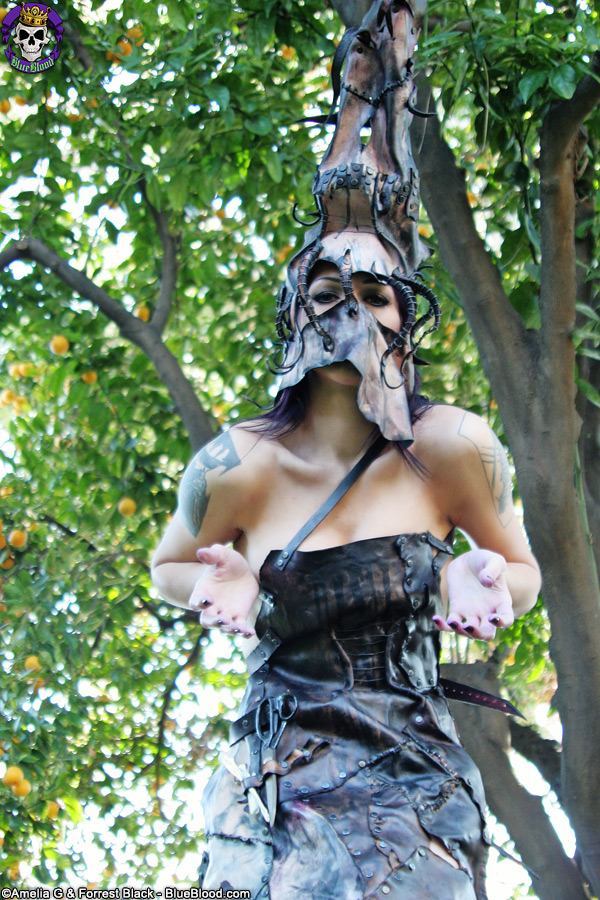 A Symphony of Flesh…

…performs rituals turning humans into instruments through body modification, transforming the agony and euphoria of the stage into sonique energy to be devoured by the audience.

Utilizing sculpted leather creations that are mounted to the performer with hooks, wires, and other devices beneath the skin, Louis Fleischauer manifests the transformation of human flesh into a sonorous organism.

In the spirit of early Surrealist ideals, the goal of
these rituals is to invoke a reality-shift within the
minds of audience members. A Symphony of Flesh mingles visuals and acoustics in meditative madness.

Through exhaustion, pain and noise the performer enters a trance-like state of mind. Some of the cathartic experienced through this, is being shared with the audience in form of sound. Every amount of pressure from hooks pulling the skin is translated into amplified vibrations.

For the ritual to be effective, any barrier between stage and audience must be destroyed. People are encouraged to participate via various tasks, such as joining the orchestra of flesh and noise by attacking amplified devises attached to the performer.
Shortlink:
Posted by
Amelia G
on August 8, 2012. Filed under
Art
,
Happenings
,
Headline
,
Images
,
Personalities
. You can follow any responses to this entry through the
RSS 2.0
. You can leave a response or trackback to this entry