Caustic – 12 Remixes
"If Industrial is dead I'm f**king the corpse." So goes the description on Caustic's Facebook page. Listening to this remix heap, I found it easy to imagine lots of pelvic thrusts in the studio and across the mixing board. Only a labor of love could be produced from that experience, right? Matt Fanale's tracks are remixed by artists such as German stomp champions Straftanz, synthpop visionary Assemblage 23, and hard-hitting newcomers Blakopz. Tracks like "Bigger Better Faster Now!!!" and "Demon Seed Semen Deed" are given a healthy injection of dance atmosphere while still maintaining the explosive madness and humor found on the originals. Fanale's vision of abrasive, noise-drenched industrial pyrotechnics are celebrated with reinvention and new molds, maintaining dance floor aesthetics while still sticking out as a unique force in modern industrial.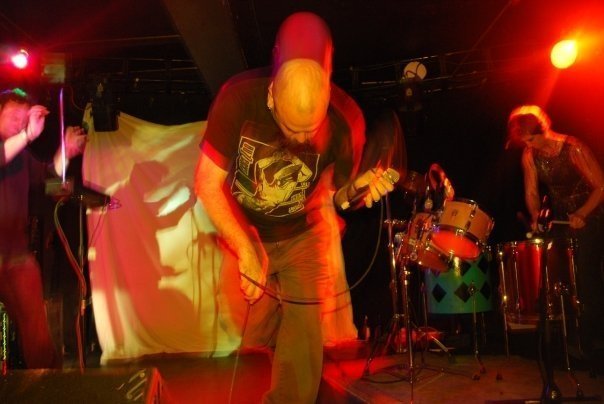 Caustic is like a gnat that won't stop buzzing in your ear, especially if that gnat is a loud, bearded bald dude blasting relentless distorted dance beats into your skull. Started in 2002 by Madison, WI's Matt Fanale, Caustic has built a surprisingly impressive grassroots fanbase with his combination of unpredictable, anarchic live shows (generally accompanied by The Gothsicles on live duties) and DIY fuck-all attitude.

Caustic has put out a prolific amount of music in the last few years and has performed coast to coast in the U.S., as well as in the sold-out Infest Festival in the U.K. Caustic has been on bills with everyone from Atari Teenage Riot to Combichrist, and from Grendel to some other band I'm name dropping to try and impress you. Are you still even reading? Seriously? Huh. Well, y'know, thanks for that. Um, don't do drugs and stay in school…or something. And don't burn bums.
Shortlink:
Posted by
Zander
on February 22, 2013. Filed under
Music
. You can follow any responses to this entry through the
RSS 2.0
. You can leave a response or trackback to this entry