Blue Blood Had a Blast Exhibiting at Erotica LA 2006
Snaspshots from Erotica LA 2006:
– Friday Snapshots
– Saturday Snapshots
– Sunday Snapshots


I now have clean laundry, but I may not be able to wear it too many places. Allow me to explain.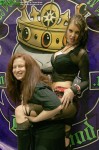 This past weekend was Blue Blood's and my first year exhibiting at Erotica LA. Back when Forrest Black and I were doing a lot of writing and photography for AVN's various print publications, we sort of meant to go to their Erotica LA show, but we never quite got around to it. I always had the impression that it was probably more Porno with a capital P than I'd really be into.
I decided to try out getting a booth this year because, for 2006, the Erotica LA crew really went after both women and the couples market, spending a reported $300,000 on promo for the event. This made me feel like this could be a good event to promote the imminent official Independence Day launch of BlueBlood.com Apparently 40,000 people attended Erotica LA in 2005 and this year a whopping 50,000 people were expected to attend. That sounds pretty accurate to me. The event was held at the Los Angeles Convention Center which is HUGE and foot traffic to our booth was constant throughout the three days of the show.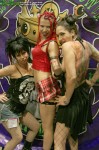 The sordid reason I now have clean laundry is because, over the past few days, in addition to trading SpookyCash shirts for swag from Bang Bus, Phukit, and Sex Search, I also got T-shirts from Porn on a Stick and Rodney Moore. Unfortunately, I went to get a professional (legit/no happy ending) massage the day after Erotica LA and they were kinda nonplussed that my shirt said "I heart sex." I have to go to the dentist tomorrow, so maybe I should be doing laundry now, instead of writing this. Oh well. It's punk rock to vaguely perturb people who are about to put sharp implements in your mouth, right?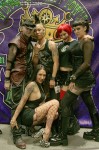 I was really happy about the Blue Blood booth placement. We were facing down a whole long aisle, which made us visible clear across the convention center, so that people had an easy time finding us. Our next door neighbor was the charming John Stavros of PMP Studios, Vision Girls and the Armed Forces of Love. His ass has been photographed by Andy Warhol and may even have its own fan club. Actually, I think the fan club is for his entirety, but he was giving us a booty shake while explaining it, so I might have missed some details. John and I took turns complaining about stuff at the beginning of the show. He took weird smells and smoke and I took noise. (If you are the folks who were blasting the possibly unlicensed Genitorturers sample, followed by a repeating brief loop of horrible-sounding sex, and you are wondering who among the legion of annoyed people complained, it was me. I was very impressed that AVN had a sound meter, so they didn't have to rely on a judgement call.) Anyway, John had the spooky Lady Pandora and Maxine in his booth, so we were kinda Gothic central in our area. Admittedly, we did have a hardcore DVD booth across the way from us and I just kept re-reading the slogan on one of their posters which said, "Why can't these girls get enough butt love?" Try saying it aloud with different inflections after three days of convention center food and it's pretty funny. Trust me on this.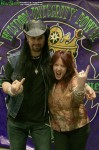 My Blue Blood booth was always convenient to both stages and the seminars area, so we got to keep track of the action and when good stuff was about to start. I also got to see a long restrospective presentation by the wonderfully prolific Justice Howard. If every photographer who worked on Blue Blood in print had been as fabulously fun to hang out with and as fabulously creative as Justice, then I don't know that I ever would have bother to pick up a camera, because it would have been unnecessary. Nonetheless, I like shooting now and Justice was definitely a personal inspiration. It was really great to see a mix of new and old work in Justice Howard's presentation. I think some of her Q&A answers to some of the audience members frightened them, but, hey, sometimes art does that. It was great to see her.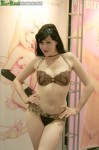 I had a virtual reality encounter with Taylor Wane at CES in Vegas around 1994ish and then wrote it up in Blue Blood in print, but Erotica LA was the first time I met her. She just did a movie with Mary Jane and so both hotties were signing in the Taylor Wane booth and anything featuring Mary Jane has got to be cool. The three of us discussed what sorts of massages we would likely get after the long weekend. I wonder if either of them wore T-shirts which bothered the personnel at their preferred providers. (Taylor did skip out the last day to do a shoot with Billy Idol, but that seemed like a quality excuse for her absence.)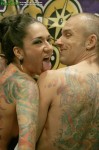 Erotica LA was very cool for meeting a variety of people I generally only know from the interweb. It was awesome getting to chat with so many of the people we mailed from the Blue Blood MySpace profile. I sure like that site better since FOX took it over. Avant garde director Ramzi Abed and I have been aware of each other via various media for some time, but it was a pleasure to meet him in the flesh. I'm looking forward to the premiere of his Black Dahlia movie. I was aware of Dick Delicious of Dick Delicious and the Tasty Testicles fame partly because he has been nice enough to link to some of my naughty membership sites, but he was super charming and interesting in person. I got to meet the gent behind the Ferguson Fine Arts Gallery where Blue Blood photog Lori Mann and many other cool artists have shown. Mario Sabljak of Flavour Furniture is best known for his sexy and whimsical furniture designs, but, in our booth, he was known for taking his shirt of and showing off his nice ink.

One of the highlights of the weekend for me was meeting Sugar and Tatdude from Healing Art. Some of the wonderful work they and the other artists in their extended family do for breast cancer survivers includes using tattoo artistry to cover scars and create areola repigmentation i.e. make nipple areas look more like nipples. This might seem like something minor in the face of possible death, but how you feel about yourself and your world makes a huge difference. Someone very close to me underwent breast cancer surgery last month, so this was an especially nice group for me to come across.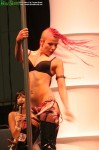 Another highlight of the show was the polework competition. This was exactly what it sounds like. Some of the most accomplished dancers in Los Angeles showed off their moves (nonnude) on stage in an audience-judged competition. I didn't totally follow why there were judges on stage if it was all about the crowd response, but some of the lap dances the judges got were entertaining to watch. The winner was the gorgeous and flexible mohawked Sin. I've thought she was amazing for ages. She and I have exchanged cell phone numbers and email addresses at 4am at the Dead Girls Corp studio over and over again, but somehow such scraps of paper never quite end up filed right. And I'm sorta shy on the telephone. I swear we are going to get around to shooting for real soon, but you all can at least see some examples of her flying around the pole and in our booth in the gallery which accompanies this article.
The other abortive shoot hottie there was Ms Genevieve who is broadcasting with KSEX. I went to her place to photograph her because she has a cool dungeon setup. Only my car got vandalized while I was looking for parking and we all decided that the creative energy was going to be nonideal after filling out police reports. Plans are in the works to make that happen soon too though.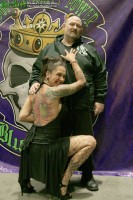 It was very nice at Erotica LA to run into pals of mine as varied as Joey Strange and Kayla Quinn and best of all David Aaron Clark. When Dave wrote up Blue Blood issue #1 for Screw in late 1992 or early 1993, it was the first full feature on the mag. I'd gotten press mentions a lot of places, but they tended to be stuff like a capsule reviews in a deathrock zine like Ghastly saying Blue Blood was cool or a blurb in Hustler's Chic saying contributing writer Amelia G (that's me!) had created a publication they found most bizarre. But David Aaron Clark did a full-on feature-length deconstruction of the mag which included a sentence that caused us to call one of my friends a "hair farmer" for years afterwards. Dave also welcomed me and Forrest into his home in New York City and gave us the grand BDSM tour of the town years ago, and we thank him for that experience.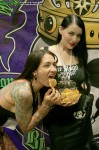 Forrest got to snap a few shots of Dave in the Blue Blood booth this weekend at Erotica LA with Superna. And can I just say Superna rocked the Blue Blood booth like she rocks the mic, high energy and full throttle. Even at the end of the looooooooong day on Saturday, she kept all our energy levels up with her own enthusiasm. Eva Klench was awesome too, even battling rush hour traffic in a corset to be with us on Friday and still looking gorgeous and good-to-go upon arrival. Vima spent the day with us on Saturday before heading off to check out Margaret Cho's performance that night, as she will be
collaborating with Margaret Cho on a new burlesque act. Even with something that important to do that evening, Vima hung out with us for as long as possible to fill in as Dahlia Dark was a little stressed by the large crowds and Voltaire had the flu. Representing for the boys, we had in attendance new Blue Blood hottie Omen and OG Blue Blood boi Astrovamp Daniel Ian who rumor has it is about to marry the girl he posed for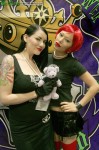 Blue Blood with in 1996. Big love to all my crew on this one. You all made the show so much fun!
There are tons of cool people I'm leaving out right now, I know it, but the best thing I can say about Erotica LA is that the whole Blue Blood crew had fun,and I came home with a list of people I want to do something cool or fun with, who I either met or was reminded about at the show. And those are the two most important things to be able to say after any convention. Really, we all had a blast and I came home with a porcelain box decorated with kanji on the outside and stuffed with business cards on the inside, but the concept is the same.
I guess I better go do laundry now.
Shortlink:
Posted by
Amelia G
on July 18, 2006. Filed under
Blue Blood
. You can follow any responses to this entry through the
RSS 2.0
. You can leave a response or trackback to this entry