Cortisone, MySpace, Really Great Plush, and Not Mucking About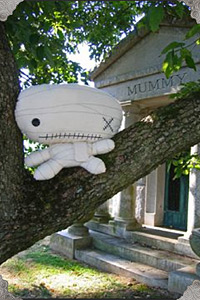 So I'm recuperating from the corisone shot I mentioned last week. I asked my BlueBlood.net friends, my 60,000+ Blue Blood MySpace friends, and my LiveJournal friends. Apparently I have a lot of different site-specific friends. I was surprised to only get five responses on BlueBlood.net. In my personal journal, I received eleven responses, ten of which were from people I have interacted with extensively, ranging from interfaced with digitally a whole lot to stayed up late with at science fiction conventions to lived with, and nine of which were from people I know in real life in different cities. It is nice that the journaling service helps me keep in touch with people from different places and times in my life, although sometimes the chasms between the different folks on there seem odd, given that they all intersect with me.
I would have expected my personal journal to have had the most responses, given that it seems most likely that the folks on there would be the most interested in what is going on with me personally. Not how it went. More than 250 people on MySpace responded, including people I have known for many years, people I have just met, people I have made art with, people I have worked with, people I have partied with, people I've met once, people I hope to meet someday, and people who seemed interesting but I've never chatted with before. More than 250 MySpace friends were generous enough to share their experiences to make mine a more informed one. I was both stunned and touched. MySpace sure has gotten to be about 680 million times cooler since FOX bought it. At any rate, it seems that my friends who have received cortisone injections are most likely to be women who have worn extremely high heels and/or performed very vigorously onstage and men who have participated in some form of UFC-type fighting and/or performed very vigorously onstage. Your more traditional sports such as baseball, football, and gymnastics came in second place for both genders. I'm not sure what that says about the demographics of who I like. The general consensus of the general demographic seemed to be that cortisone shots are unmitigated hell to get but work magic for healing.
At any rate, when I went for the shot, I was scared and I brought the Mummy given to me by the wonderful artist Kristin Tercek of Cuddly Rigor Mortis. My doctor was entertained by the name of her company, but he told me I really didn't need to worry and that he had a reputation for being good with a needle. I laughed nervously and he explained that there are three things which make it so a cortisone shot is not that awful. If I recall correctly, the three things were (1) spray the skin with topical anaesthetic but not an injected one, (2) use a very thin needle, and (3) don't muck about. I asked him what he meant by don't muck about. He explained that many doctors inject lidocaine or something similar to numb the area before they inject the cortisone, but he couldn't see how two shots would hurt a lot less than one, and he suspected that many doctors did it that way because they lacked the experience and confidence to get in there quickly in the right spot and get out fast. A numb patient won't notice the doctor feeling his way and a numb patient is likely to go overexert their injured area immediately afterwards.
I seriously get sick after getting blood drawn, so I was very nervous about the shot. It was totally nothing. The doctor was super fast and precise. It didn't hurt at all. There was a peculiar burning sensation in my ankle for a while afterwards, but it was not painful, just odd. Afterwards the doctor said something about hoping he didn't come across as arrogant. I told him that I'm just fine with my doctor being arrogant, especially when he is right.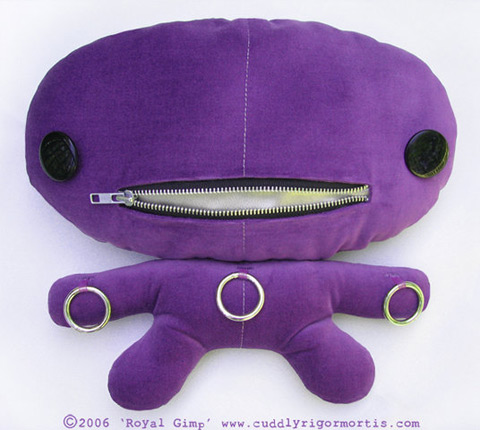 Then me and Mummy went home to play with the awesome new Royal Gimp Kristin made for Blue Blood in Blue Blood purple.
So, in conclusion, I sure do like Kristin Tercek. I sure do like my doctor. I sure do like people who are accurately arrogant. My ankle hurts way more now than before the shot and I'm a little grumpy, but that is all apparently a normal precursor to feeling miraculously better. I just want to be able to go to the gym and drive like normal. And, fuck me, but I think I just may like MySpace.
Shortlink:
Posted by
Amelia G
on October 1, 2006. Filed under
Blue Blood
. You can follow any responses to this entry through the
RSS 2.0
. You can leave a response or trackback to this entry