West Hollywood Book Fair
The West Hollywood Book Fair has received a California Park and Recreation Society Award of Excellence for three years in a row now. The Fair deserves it for throwing such a successful literary event year-after-year in the somewhat arid soil of Los Angeles.
The West Hollywood Book Fair features panels, workshops, performances, and exhibitor booths including local bookstores, small presses, literary non-profits, literary journals and arts organizations. My favorite part of the Fair was getting to see authors I know speak and discover authors I didn't know.
The panel discussions and such were sectioned off into various niche pavilions. The pavilions of most interest to me were the Mystery, Crime & Suspense Pavilion, the Comics/Sci Fi/Horror Pavilion, and the delightfully-named Queer, Hot, and Avant Garde Pavilion. I missed the LA Noir: Crime Fiction Close to Home panel I wanted to go to in the Mystery, Crime & Suspense Pavilion. I was mostly interested because the brilliant Gary Phillips was scheduled to be speaking. I adore his gritty crime novels with characters so vibrant and real and frequently badass you want them to succeed, even as you note the ways they may destroy themselves. He co-edited a pretty cool cocaine anthology too. I'd like to give some really great reason why I missed this particular panel, like maybe traffic was so congested from the hugeness of the event that it took a while to find parking. But, let's face it, a reading even in Los Angeles, even an awfully big one, is going to lay on tons of free parking and the location for this event is a really easy location to drive to. It was just the whole getting up that early in the morning thing that was not happening for me. I usually start work at noon.
Speaking of the location for the event, I had not realized that the West Hollywood Book Fair is held outdoors. The outdoors features sunshine on days like this. More on the sun in a moment.
So the first panel I went to was Horror in Short Bursts: Crafting Stories for the Horror Anthology. It was moderated by Del Howison who runs a beautifully-appointed horror store called Dark Delicacies which has hosted signings for many friends of mine. Dark Delicacies sells primarily collectible books and spooky housewares. The other name on the panel I was familiar with was Jeff Gelb. Jeff is best known for editing the Hot Blood series of erotic horror short stories. I just checked Amazon and apparently he is up to a whopping thirteen volumes in the series. I guess I've missed around ten volumes, but props to Jeff for having edited material like this as far back as the late 80's.
I have successfully sold 100% of the short horror fiction I've written over the years, so I wasn't expecting to learn a ton from the Horror in Short Bursts panel, but I thought it would be enjoyable. Unfortunately, the panelists insisted on pontificating on the subject of the internet, which is apparently something they know less-than-nothing about. A panelist named Lisa Morton started going off on how she thinks it is somehow telling that stories from Gothic.net have been stolen and stories on another webzine she is familiar with have not. Now, Blue Blood has hosted Gothic.net for many many years, so I am intimately familiar with Gothic.net's traffic statistics. As an internet professional, I normally would have a good ballpark guess on the number of visitors to any site, but in the case of the site Lisa mentioned, I actually know precisely that they only get around 700 visitors a month. I know this because this site copy/pasted the HTML from Gothic.net to their own site and accidentally hotlinked one of the graphics. As a result, I can see precisely how many times a visitor hits one of their pages. I do not know what Lisa thought she was implying about Gothic.net's stories getting stolen, but I've spent a lot of legal time making sure that every single instance of content theft from Gothic.net got shut down. I even gave free legal lessons to a number of horror writers so that they would know how to better protect their own work. In point of fact, the reason that Gothic.net fiction gets jacked more often is simply that Gothic.net receives about as many visits in an hour as this other webzine gets in a month. A certain percentage of people will steal, so more readers equals more theft. If a writer wants their work to actually be read, I can certainly tell them which site will give them more exposure. The WGA writers' strike is all about writers looking to share in web revenue, so I was truly shocked to see writers and editors presenting like the internet should not have writing on it or something.
I was excited, however, when the amzingly multitalented author and editor Thomas S. Roche popped in to the horror panel. Among many other things, Thomas edits Eros Zine and previously worked on the web arm of Good Vibrations, so he is web savvy. I always like seeing Thomas and this made running into him even better. I had realized he was going to be at the Fair when I saw him in the program guide. I had posted a thing online the day before asking who I know in Los Angeles who likes books. Thomas saw me post it, but he told me at the Fair that he'd assumed that I had some old books to give away, rather than that I was looking for who might like to hit the Fair with me.
So, anyway, Thomas S. Roche, Forrest Black, and I wander around the exhibit booths and start working on our sunburns. We stop by the Dark Delicacies booth where Del and Jeff are hanging out. We all say hello and then Thomas chats briefly with Jeff who wants to get a story from Thomas for his next anthology. While we are waiting for Thomas, I am thrilled when Gary Phillips ambles by. I admit I gushed a little when I told Gary how much I really love his work and he can have his publishers send over press releases and I will give him coverage and did I mention I really love his books. At which point, Jeff Gelb interrupts me telling Gary Phillips how awesome I think Gary is and claims that I just told Jeff the exact same thing. Gary's face falls and I'm left totally speechless that Jeff would think it was funny to tell a straight up lie that takes a heartfelt compliment away from someone else. Gary Phillips also has a really quality author web site and Jeff may or may not have registered his name as a domain.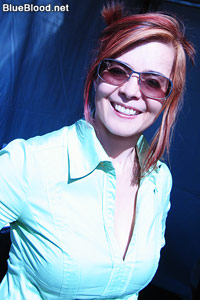 At this point, the sun is getting kinda brutal and Forrest, Thomas, and I decide to head over to the Queer, Hot, and Avant Garde Pavilion. We pass by the Daedalus booth where BDSM educator and writer Midori has a dark hidden little space in one corner where Fair visitors can get out of the sun and whisper a fantasy they have. Midori then writes down the fantasy and posts it on a fantasy wall. Someone, who may have been me, asks if the secret to her innovative setup is really just getting out of the sun. But Midori is – unlike me, unlike Forrest, and unlike Thomas – prepared for the event; Midori has sunscreen. Not only that, but Midori is a merciful and generous angel who shares her sunscreen with the less prepared. Thomas says he thinks it is too late to save him, but I still manage to shoot off a funny snapshot of him with Midori's sunscreen all over his head.
I am happy that we catch the end of the Literary Foremothers: A Lesbian Tradition panel. The very talented Myrium Gurba is on this panel and talks about the conflicts between presenting and celebrating both ethnic background and sexuality. I have never met Myrium in person before, but she wrote up my sites Gothic Suts and Barely Evil for the late lamented On Our Backs magazine, so we sort of know each other and I'd been wanting to meet up in person. Myrium is also smokin' hot.
It is nice to stay semi out of the sun as the panel Thomas is on is in the same Pavilion. He is speaking on Fictional Sex – The Good, The Bad, and the Never to be Done Again which is moderated by Christine Louise Berry and also features Thomas S. Roche, Jenoyne Adams, Midori, and Rob Roberge. Apparently there is some kind of yearly award thing for the worst sex scene in a "mainstream" novel. So the panel is mostly this group of talented writers reading reading really awful anti-erotic passages by less talented authors. Midori actually acts most of them out, whether or not she is the one reading. It is immensely entertaining, although I can't help feeling that I would have liked to hear them all just reading their own quality work.
To this end, Forrest and I finish the day at the performance tent of WordPlay: A New Spin on Storytelling. I don't always like spoken word. I'm a bit inhibited about reading myself and I think sometimes words just seem different when read versus heard. WordPlay is really fabulous spoken word though. The authors featured are hip and funny and fun and all seem very skilled in the reading in public department. Taylor Negron's tale of catching a burglar was particularly entertaining and insightful and hopeful about the world. When I look up WordPlay, it appears that they do regular shows, so it makes sense that their readers have really honed their performances.
I go home happy and tuckered out and only a little bit sunburned. Hurray for books in West Hollywood.
Shortlink:
Posted by
Amelia G
on January 18, 2008. Filed under
Blue Blood
. You can follow any responses to this entry through the
RSS 2.0
. You can leave a response or trackback to this entry