1st Annual West Coast Fetish Ball 2007 and Erotic Masquerade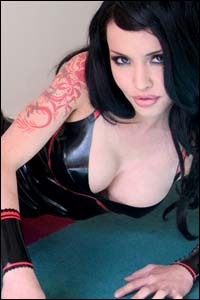 What if you threw a fetish party and nobody new came? The same rugged stalwarts from the last five years were present, sporting hardened and stained latex wardrobe, silicone lubricated, lipoed, botoxed expressionless and very drunk. BDSM and drugs/liquor don't mix but its Hollywierd and the weirdo onlookers, unhappy married couples, and pervy old white dudes in black leather were all in attendance. At least there weren't any melancholy hipsters or smelly hippies. Then again they know how to party and should have been there.
My editor sends me a mysterious online message about a job should I choose to accept to cover it, a fetish event in said Hollywierd, wedged between X-Mas and New Years. I opened the message on myspace on my nearly defunct once puzzling newfangled phone that will let me navigate online but only in something smaller than 8 pt. font. I ventured to the address via the Red Line at the Hollywood and Vine Station and I was really ready to see something interesting whether it be puke or piss.
The club was situated at The Henry Fonda Theatre and has been known to deny entrance to those that have been placed on the list before, but I was miraculously let in, and my bag barely inspected. I should have smuggled a flask. It was cold out. So I was wearing something odd, not latex, but one of my fav old drag queen outfits from someone that had a much bigger bust and ass than me, that I scored in a Silverlake thrift store. Twas pink satin, and about 8 sizes too big, but I pinned it to my leotard with safety pins and felt fabulous. Underneath my skirt I had two pairs of stockings, and leg warmers, and I was wearing a Blue Blood hoodie, 2 scarves and a cashmere overcoat. Fuck fetish, I had just got over a nasty cold few weeks prior and I was not looking to score.
Most of the fetish miscreants were there, just not many of the promised advertised ones. Some it seems, or most were skinny and lacquered a bit too tight with corsetry. God forbid someone should sneeze. I overheard one fake eyelashed missy hiss to the other, "wearing thisss feels like you are being squeezed by a nice long python." I couldn't eavesdrop much more since the carpeted stairs made it tough for me to get down in high heeled boots and I had work to do.
On the main floor Master Syrus applied long beautiful feather needles for a fantastic scalp piercing, and a bosom piercing. Some of the old crows watching were more glassy eyed than others, but when you are wearing 2K in latex couture everything else seems to pale in comparison. Sadly the Mistress of Ceremonies Masuimi Max, Mistress Aradia, and a slew of purported others were not seen during the time I was there, and I missed the performances by Midori and Kumi, although I did see Kumi in a white wig briefly.
Watching Mistress Genevieve 2.0 wait in line to get in was priceless: with brown hair, possibly meth fidgety and frozen overdrawn lipped smile in brown, opening and closing her phone, muttering where is she, jumping up and down in impatience like she had to pee, all of a sudden spins around and bluntly asked me why did I cut my hair. I looked her dead in the eye with bemusement, and said because I was tired of it, but secretly because I didn't want to look like everyone else, especially her. I still have nightmares of getting my eyes nearly enucleated by her during the production of "Scuba Squirters 3." Now I know better and I kept my distance from her talons while I waited in the short VIP line.
The fashion show highlighted the fashion of Syren and Stockroom in typical black/white combos. The best event was the two leather hooded chick bunnies with tits marked by black X marks, sparring away in boxing gloves and adorable mens boy shorts. One was in black the other in red. The dark bunny won in a lovely spray of red glitter.
This was nothing like the other great fetish venues such as Skin Two Rubber Ball in London, Fetish Evolution in Essen, or the Black and Blue Ball in NYC. This was the first year of the West Coast Fetish Ball and it was a cold day, so of course it was going to be sparse, and although the VIP area upstairs has a tent cover and kept things more warm, it was basically a total ripoff, charging ten bucks for a shot of booze was ridiculous and to laud it as such a big fetish venue with so few hardcore and featured performers around, I felt bad for anyone that shelled out good beer money for a total letdown.
Shortlink:
Posted by
Michelle Aston
on January 9, 2008. Filed under
Blue Blood
. You can follow any responses to this entry through the
RSS 2.0
. You can leave a response or trackback to this entry