Brilliant Dyslexic Transvestite Comedian Eddie Izzard Performs at the Kodak Theatre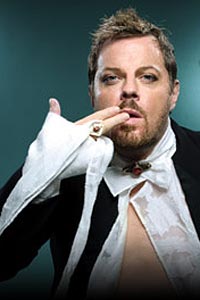 Eddie Izzard says that G-d doesn't love Los Angeles. Then again, he also says that he just performed in Las Vegas and Phoenix and those folks would find Hell a mild summer day. From a temperature perspective anyway. Apparently Phoenix gets jokes about squids and ink faster or possibly it is just easier to get a Phoenix audience to show appreciation aloud. Eddie Izzard performs two more nights this week in Slowsquidwritingjokesville (aka Hollywood) to finish out his Stripped tour in La-la-land.
My friend writer Maria Alexander invited me out to the sold out Eddie Izzard show at the Kodak Theatre. At least, I think it was sold out because it was insanely crowded and took me an hour to get home (once I found my car) even though I live down the street. Despite the fact that a non-Angeleno might consider my home walking distance from the Kodak Theatre, I had never been there before, although of course I've seen it on television like anyone else. In person, even the non-box seats are staggered in such a way that everyone gets a clear view of the stage. The ushers are courteous and helpful. The bathroom lines move almost alarmingly fast. The only oddity is that they don't really show you the nosebleed seats on TV. The venue is like twice the size I thought it was and there are definitely seats farther away from the stage, even box seats, than might be ideal. Our seats were a bit far back, but we had a really awesome straight down the center view I enjoyed. I had to do four laps around three levels of the parking garage at Hollywood and Highland after the show because I am less organized than Maria Alexander, so I only remembered what color level I thought I was on. Turned out I did have the color right and it was just crazy hard to find a black Lincoln Town Car in a super crowded garage packed with black Lincoln Town Cars.
I love Eddie Izzard because he manages to mix being incredibly intelligent and funny, while carrying himself perfectly, and saying fuck a lot. He told the audience tonight that PR people say that response to what one says is 70% what you look like, 20% how you say it, and 10% what you say. Now, I can understand small amounts of French after hearing it exclusively for a number of hours. I can speak French (quite badly) after being immersed for three days. Yet I still laughed myself sick at a joke Eddie Izzard told on a previous tour where he told the whole thing in French. So he is a genius in the how-you-tell-it department. Nonetheless, I admit that my eyes glazed over a bit tonight when he spoke in grunts for too many minutes in a row. Then again, he also made a hypnosis reference at one point, so perhaps he was trying to make me very sleepy in that moment.
At any rate, Eddie Izzard presented his political views with humor, taught a little history as he is wont to do, distilled the nature of religion and ox coveting, and told jokes about dinosaurs. You pretty much can't go wrong with dinosaur comedy. Well, Eddie Izzard, in his brilliance, can't go wrong with dinosaur comedy.
The comedian came attired in a dark tailcoat with reddish magenta lining, a red striped buttoned down shirt, and some surprisingly sex blue jeans. I hope he was wearing a lot of eyeliner, but I truthfully was not close enough to be sure if he was or if, with the distance to our seats, my brain just filled that in with my personal preferences. Eddie Izzard did a little bit where he talked about people coming up to him and accusing him of not really being a transvestite. He said of all the things he never thought he would have to defend, he never thought he would have to vigorously insist that he is too a transvestite, even if he has been wearing pants a lot lately. He does play a pretty butch manly man on The Riches on FX and he does a great job of that too. I chalk that up to talent and versatility, rather than secretly not being a transvestite, especially given The Riches' sensitive portrayal of the youngest child's burgeoning transvestism and the trantastically fabulous party in the second season finale of the show.
All of my dyslexic pals will be pleased to know that Eddie Izzard says he is dyslexic and just memorizes his shows rather than writing them down and, from here on in, dyslexia shall be referred to as kat spelled with a k. I have a complex theory about why so many flamboyantly unusual and artistic people are dyslexic, but it is long, so I'll save it for another time. As Eddie Izzard has nothing to prove, I'm going to assume he really is dyslexic and really is a transvestite from the heart and isn't just claiming such things so people will think he is creative or talented.
Eddie Izzard closed out his performance talking about living on the dark side of the moon with Darth Vader, Pink Floyd and a squirrel. You really have to hear him do it because only Eddie Izzard's performance can do it justice.
Shortlink:
Posted by
Amelia G
on August 8, 2008. Filed under
Happenings
,
Personalities
,
Popcorn
. You can follow any responses to this entry through the
RSS 2.0
. You can leave a response or trackback to this entry