Dita Von Teese at Crazy Horse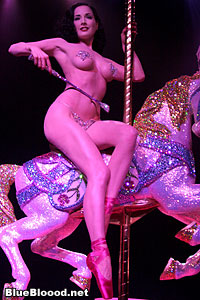 Dita Von Teese is currently performing her second sold out series of artistic burlesque performances at the Crazy Horse strip club in Paris, France. Every time I have seen Dita Von Teese perform, she has done something different. Whether she is rocking a glittering horse, a sudsy martini glass, portable fairy forest, or a bondage rope spiderweb, Dita earns her crown all over again every time she hits the stage.
She is also hard at work on a book of tips for glamour-queens-in-training who wish to emulate her classic beautiful burlesque look. I for one will be thrilled when various chicks who hope to model start emulating Dita Von Teese again, instead of thinking that any random assortment of tattoos makes them alt and sexy. I love well-considered original skin art, but I just don't think counterculture and inked are synonymous. The reason we have women like Dita Von Teese in the mix on BlueBlood.com is that I feel she easily exemplifies being self-actualized, independent, and marching to the beat of one's own drummer. If someone had told me sixteen years ago that some day I'd be turning away models because I felt like they got their tattoos for conformist reasons, I would have thought that could never happen. C'est la vie.
Sadly, I must also confess that I have had Motley Crue lyrics going through my head, ever since I first heard about Dita Von Teese performing at Crazy Horse in Paris France.
Motley Crue Girls Girls Girls Lyrics
Friday night and I need a fight
My motorcycle and a switchblade knife
Handful of grease in my hair feels right
But what I need to make me tight are
Girls, Girls, Girls
Long legs and burgundy lips
Girls,
Dancin' down on Sunset Strip
Girls
Red lips, fingertips
Trick or treat-sweet to eat
On Halloween and New Year's Eve
Yankee girls ya just can't beat
But they're the best when they're off their feet
Girls, Girls, Girls
At the Dollhouse in Ft. Lauderdale
Girls, Girls. Girls
Rocking in Atlanta at Tattletails
Girls, Girls, Girls
Raising Hell at the 7th Veil Have you read the news
In the Soho Tribune
Ya know she did me
Well then she broke my heart
I'm such a good good boy
I just need e new toy
I tell ya what, girl
Dance for me, I'll keep you overemployed
Just tell me a story
You know the one I mean
Crazy Horse, Paris, France
Forget the names, remember romance
I got the photos, a menage a trois
Musta broke those Frenchies laws with those
Girls, Girls. Girls
Body Shop. Marble Arch
Girls, Girls, Girls
Tropicana's where I lost my heart
Girls, Girls, Girls
Shortlink:
Posted by
Amelia G
on March 26, 2009. Filed under
Blue Blood
. You can follow any responses to this entry through the
RSS 2.0
. You can leave a response or trackback to this entry