PEOPLE WHO ARE COOL: The Amelia G Interview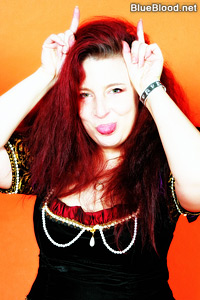 Sean Abley is working on a series of interviews for a possible book project entitled People Who Are Cool. The theme is, as you might suspect, people Sean Abley knows who are cool. You can read the two part interview he did with yours truly online now here and here. It is a two parter because, as Sean says, we are a couple of chatty bitches. Seriously, it is very in-depth and his questions were really interesting and unusual and I answered a lot of stuff I don't usually talk about in interviews. This is going to post to Dark Blue Films in approx six weeks, but you all get the inside-skinny on where to read it pre-publication.
Socket writer/director Sean Abley writes:
"Somehow Amelia G and I became blog friends about 8 years ago. I'm not really sure how that happened, and when we've discussed it, neither is she. But somehow one of us surfed into the other's Live Journal account and friended same, and we've been reading each other's stuff for years now.

When I first started reading her blog, I was immediately struck by the photographs she'd post, taken either by her or her collaborator, Forrest Black. These were semi- (or not so semi-) naked shots of Goth chicks with beautiful lighting, styling and makeup. As I say further down in my interview with her, "[She] took two things I have no interest in – Goth culture and naked girls – and photographed them so I can't turn away."

Soon I realized Amelia had a mini media empire based on this subject matter, the hub of which is (are) https://www.blueblood.com and https://www.blueblood.net. Start there and you'll find yourself winding down internet corridors full of fetish photos, films, music and art. And none of it feels exclusionary. Less "Butt out, square!" and more "Hey, we're awesome! Check us out!" I would encourage anyone reading this to do just that. Amelia and Forrest's work is pro and punk at the same time, and never boring.

When I decided to interview Amelia, I did some research and found out she has a crazy interesting past, from living in a punk/goth group house in D.C. to moving in the industrial music scene, to founding a magazine . She is also the kind of feminist that I love, e.g. one that doesn't think a naked girl is being suppressed just because she's having her picture taken. She's also a workaholic, as evidenced by the sheer number of projects, websites, and events she has to attend to in any one week.

Although we live mere blocks from each other in Hollywood, I conducted this interview via email, which probably lead to us be much more verbose that we would in person. (I hate transcribing, so I tend to keep it short in person).

How did the daughter of a diplomat and an attorney become the reigning Queen of Goth Erotica?

Please give a warm welcome to Amelia G!"
The interview kicks off with:
Sean Abley: I read that you've lived all over the world and the States. Army brat? What's the scoop on your childhood?
Amelia G: When I got to college, it was my twelfth school in twelve years. My mother's a diplomat. My father's an attorney. Two of the schools I went to when I was fourteen to sixteen had a lot of army brats, so some of the experience is similar.
Funny, I moved around quite a bit as a kid, although it was mainly within the same town, Helena, MT, with one two-year chunk in Carbondale, IL. But even within the same town for a little kid it means changing schools and friends, so even now I hate moving.
I get wanderlust really easily, but, if I travel enough, then I don't itch to move as much.
What subject were you awful at in school?
Even though I rode a purple three-speed bike everywhere in ninth and tenth grade and was very fit, I never got into gym. I especially loathed dodgeball. Only I would get picked pretty early. I think because I was great to have on a team because I hated getting hit by the ball so much that I would never get tagged out. This might seem like a good trait, except that I practiced the Golden Rule and did not wish to do unto others as I would not have them do unto me. So a dodgeball game could be this endless purgatory because I wouldn't tag the other team out either.
I actually loved dodgeball because it was the one of two sports I was actually good at as a kid (the other being volleyball). I was very agile, and I think the opportunity to nail the popular jocks with those big, red, rubber balls imbued me with an unfailing eye and super human strength.
Those are good superpowers to have for playing dodgeball.
It seems like you really made your mark first in D.C. What were you doing in D.C.?
Living in a punk rock group house, throwing legendary parties, trying to be a writer, doing as many peculiar day jobs as possible, tying up unsuitable suitors in the back seat of a car which was a parting gift from my unsuitable college suitor, discovering ramen cuisine. I still think of ramen as the flavor of poverty.
I actually bought dollar's worth of ramen . . .
( Read more )
Shortlink:
Posted by
Amelia G
on May 20, 2008. Filed under
Blue Blood
. You can follow any responses to this entry through the
RSS 2.0
. You can leave a response or trackback to this entry