Someone on the Internet is Wrong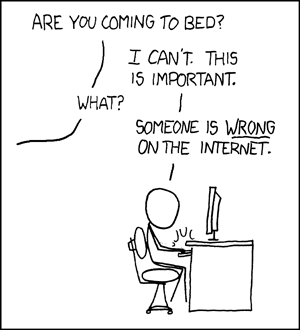 In case some of you are getting too much work done, there is a web comic I've mentioned in the forums before, that I'm going to remind you of again now. The xkcd comic strip is probably most accurately described as tech culture humor. At a time in history when so much of the population uses the internet so extensively, tech humor probably has a pretty broad audience though. The site could be more cohesively designed, but the strips are some of the most insightful and hilarious on the web. The "Someone is wrong on the internet" panel is pretty much my favorite thing I have ever seen in a comic strip and I think of it often. Normally, I'd talk a bit about genius strip creator Randall Munroe and how his strips started life as an archive of scans from his math notes and who he is and all, but his bio is just so awesome that I feel like paraphrasing its info would be leaving something out:
I'm just this guy, you know? I'm a CNU graduate with a degree in physics. Before starting xkcd, I worked on robots at NASA's Langley Research Center in Virginia. As of June 2007 I live in Massachusetts. In my spare time I climb things, open strange doors, and go to goth clubs dressed as a frat guy so I can stand around and look terribly uncomfortable. At frat parties I do the same thing, but the other way around.
That is sufficiently awesome that the only thing I have to add at the moment is that I'm buying myself a "Stand back, I'm going to try science" T-shirt if I finish everything in my inbox tonight.
Shortlink:
Posted by
Amelia G
on January 11, 2009. Filed under
Blue Blood
. You can follow any responses to this entry through the
RSS 2.0
. You can leave a response or trackback to this entry