RIP Vibe Magazine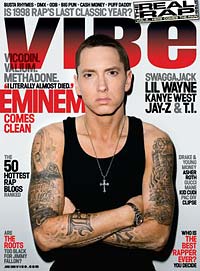 Years ago, a photo Forrest Black and I shot of Malcolm Jamal-Warner was almost published by Vibe. At the time, Malcolm Jamal-Warner was starring on Malcolm & Eddie with Eddie Griffin, but still best known for whatever it was he did on The Cosby Show. (I can't speculate because I've never seen The Cosby Show, although I have seen a Chris Rock spoof of it.) I admit that I was interested in shooting him mostly because he was a charismatic guy with the world's largest diamond tongue ring, at a time when tongue rings were still, ya know, radical. Vibe expressed interest and held onto the print for months. I was really excited to appear in such a large circulation music and lifestyle magazine then, but, alas, they eventually passed and sent my stuff back. No idea why to this day.
But now I know Vibe will never be on my list of credits because effective today, the magazine has ceased to exist. Staffers were in the middle of work on a Michael Jackson tribute issue when they received a memo, from CEO Steve Aaron, telling them they could basically go home. Vibe was hit hard by a combination of lack of access to venture capital and the huge decline in advertising, especially in Vibe's bread and butter automotive and fashion categories, due to either recession belt-tightening or companies plain going out of business. I'm not a huge fan of venture capital because I feel it puts the banking people in control over creative, while allowing companies to spend vast sums on overpriced parties and coders and real estate in a way which can make otherwise viable businesses unable to compete in an environment where the venture capital-funded businesses will soon also go under due to irrational business plans. Nonetheless, I'm not thrilled that the taxpayers bailed out the banks but not really the automotive industry and this means companies like Vibe have to be shuttered.
I would think the Vibe web site would be an asset with some value, and the closing memo says digital did well for them, simply not well enough to counterbalance the rest in this economy, only apparently it is not for sale, so it may have too many liens from venture capital folks on it or something along those lines. At any rate, the issue of Vibe on the stands now, with Eminem on the cover, will be its last and the web site will stop updating immediately and be closed in the next month. I love magazines and it saddens me to see this rash of magazines folding.
Shortlink:
Posted by
Amelia G
on June 30, 2009. Filed under
Blue Blood
. You can follow any responses to this entry through the
RSS 2.0
. You can leave a response or trackback to this entry