Scar 13 on the Cover of Buckle Magazine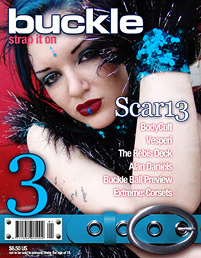 If you are in Hotlanta right now, you'd best be getting ready to strap it on tonight. Blue Blood board members have already seen some shots of Kellie and Scar (and Pika) getting geared up to party. There is a new fetish magazine in the U.S. called Buckle and they are throwing a shindig tonight.
I haven't seen the magazine yet, so I can't swear that it is great, but they've got some good people on board. Buckle's first ish featured photographer Steve Diet Goedde. Blue Blood has shared exhibit space with Steve more than once and, more importantly, he was the first person (besides Forrest Black of course) to tell me that I really needed to set up a membership site. Steve's advice has been terrific. Buckle's second issue featured photographer Kelly Lind and his co-conspirator makeup artist Alex LaMarsh who are responsible for a whole lot of sets on BlueBlood.com. We're very excited that issue number three of Buckle feature's Blue Blood's own Scar 13 on the cover. Blue Blood hotties are covergirls. The shot is by photographer Brian Bothwell who model Kerry Scarey tells me got his first magazine credit ever when I chose an image he shot of her to print in Swag magazine.
So it seems like Buckle Magazine should be of interest to Blue Blood folks. My only reservation about it, aside of course from not having seen it yet, is that I've seen a lot of statements online to the effect that Buckle is going to blow Marquis and Skin Two out of the water in the States. While I'm genuinely thrilled to see another magazine outlet for work and people I like, I'm not thrilled by hostile competition between people who should be working together for a common good. I'm biased perhaps because Forrest Black and I have provided content (photography, writing, columns, cover, etc.) for the last twenty issues of Marquis. I'm biased perhaps because, although my writing had already been published all over the world when Skin Two first published me, Skin Two was the very first magazine (besides Blue Blood of course) to publish photography by Forrest Black and yours truly. I'm hoping the competitive-sounding statements aren't actually coming from the Buckle folks. Given who has been involved so far, I'm guessing and hoping that Buckle will have what it takes to be cool because it is cool and not because it is more something or other than existing major fetish publications.
So the jury is still out, but some hella hot babes are going to be performing at the Buckle Ball tonight. So go shake your booty at the Jungle Club right now, if you are in Atlanta, Georgia. Check Buckle out and watch for more coverage of what they are up to.
Shortlink:
Posted by
Amelia G
on September 23, 2006. Filed under
Blue Blood
. You can follow any responses to this entry through the
RSS 2.0
. You can leave a response or trackback to this entry