Forgetting the Forgetting Sarah Marshall Ad Campaign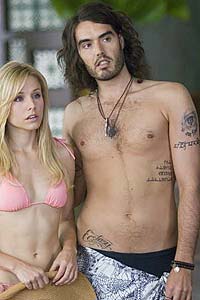 In March of last year, Los Angeles was blanketed with some kinda misogynist-seeming billboards in promotion of a movie called Forgetting Sarah Marshall. You can check out a post April Flores wrote on the topic for an in-depth analysis of the ad campaign, but the gist of it was finding humor in being insanely hateful about an ex. Not insanely hateful with wit, just insanely hateful. I often find hostile humor funny, but this was just stuff on the cleverness level of "you suck" and "my mommy thinks you suck too". So, at any rate, I didn't bother to see the movie.
This weekend, I was feeling a little under the weather and I get free On-Demand, so I thought without much optimism that I'd give a comedy a few minutes to draw me in. I turned on Forgetting Sarah Marshall, fully expecting to turn it off within less than five minutes. Go figure.
Forgetting Sarah Marshall is actually a really nice romantic comedy. The humor is done with great humanity and one of the most notable aspects of the movie is precisely that nobody is the villain. Kristen Bell might be the sadistic Elle on Heroes, but, as the character of Sarah Marshall, she plays the role in a fully humanized sympathetic way. Writer and leading man Jason Segal's jilted Peter Bretter is precisely not the sort of guy who would be really horrible to an ex. Which makes the situation he finds himself in — at a resort where Sarah Marshall is hanging out with her new beau rocker Aldous Snow of Infant Sorrow, played by a hilarious Russell Brand — all the more humorous. Peter Bretter is very sympathetic and he is treated with kindness by front desk hospitality agent Rachel Jansen, played by a very beautiful Mila Kunis. I don't want to include any spoilers, but the whole cast is amazing and everyone has just perfect comic timing. Maybe it is the writing. Maybe it is first time director Nicholas Stoller's direction. Mostly, it seems like just a really nice alchemy of big talents coming together. Other notables are SNL's Bill Hader and Liz Cackowski as the stepbrother Brian Bretter and his wife, Paul Rudd as a cute surfing instructor with limited short term memory, Jonah Hill as a waiter who is just a little too forward, and 30 Rock's Jack McBrayer as a religious innocent who gets honeymoon coaching from Aldous Snow. Plus more fun cameos and a killer spoof of CSI, which Jason Segal actually also had a recurring role on.
Two more fun things about Forgetting Sarah Marshall to endear it to me: First off, as many of you probably know, SLC Punk is one of my favorite movies of all time and the part of Mike, the angry fighting sort of Positive Force punk in the movie, was played by Jason Segal. Secondly, there are muppets by the actual Jim Henson workshop in Forgetting Sarah Marshall. Vampire muppets.
Shortlink:
Posted by
Amelia G
on October 19, 2009. Filed under
Blue Blood
. You can follow any responses to this entry through the
RSS 2.0
. You can leave a response or trackback to this entry