Archer Season 4, Episode 2: The Wind Cries Mary
My Archer-loathing wife stayed on the couch for this episode just to judge me silently. Best of all: She's from Vermont.
Confirming my theory that this show is a psychosexual hell-baby of Get Smart and The Office, we start with a poorly run staff meeting. I'm on Mallory's side on the break room issue, since office break rooms exist only to prove that there's no such thing as an adult in this world. (Noted: 2nd Krieger pig of the season.) And oh dear god, peer reviews.
Confirming my theory that Archer is the Michael Scott of this show, he has a Todd Packer. Voiced ably by Timothy Olyphant, the lead on Justified, a show that I should by all rights be obsessed with. One Tom of Finland-level homoerotic montage later, we find out that Lucas Guycrush is a turncoat, treasoner, murderer, and greasy smoking corpse. And mourned by no one, except our boy Sterling, who is building to a super storm of denial, with competing high pressure fronts of denial approaching from repressed sexuality and crappy childhood.
Ray's gaydar reads negative on Lucas, and Archer gets a mike drop! And a chance to abuse Woodhouse.
New guy! We meet the Gun Librarian, and Krieger confirms his spot as my #1 favorite character with his Rush-themed van art. And a pissy counter service interaction blows Archer's ill-considered black op rescue of Not Dead Lucas.
And we're burning rubber all the way to Vermont. (Wife: "It's New Hampshire that has the liquor stores, because they couldn't suck more.")
El Camino full of Rampage! A line that actually tops "Why don't you shut your dick holster?" (Said your mom.)
So, competing turtlenecks, B&B jokes, and am I the only one who's seeing this as a riff on the Pine Barrens ep of the Sopranos, with the Russian assassin… Forget it. Man, they love doing winter scenes on this show.
Regardless: Luke confesses his love, and his betrayal of his agency. Romantic stuff, especially combined with drugged vino.
Noted: ISIS is the very definition of a chickenshit outfit. Mike drops: 2
Also noted: Lana's choice of a TEC9 does rate criticism, especially if her marksmanship is an issue. Those things are about as accurate as a Fox News breaking story.
Archer boots & rallies, strangely tender scene with Cyril and Lana (as these things go), and a really implausible booby trap. And GORE. I knew something was missing. And a deathbed confession from Luke that does not make for a comfortable drive south.
Said your mom.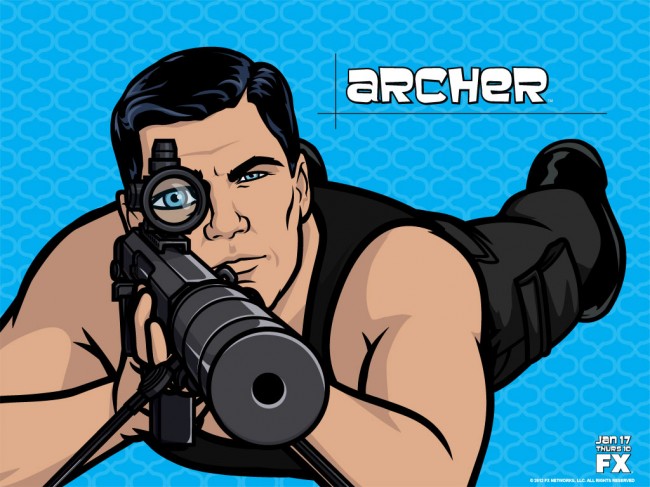 Shortlink:
Posted by
Will Judy
on January 25, 2013. Filed under
Headline
,
Popcorn
. You can follow any responses to this entry through the
RSS 2.0
. You can leave a response or trackback to this entry