Elizabeth Hoen and the Case of the Nude Steak Heist
Is it bad that when I read a headline like "Nearly-nude woman accused in meat heist" and see a hot tattooed brunette girl's mug shut, my first thought is whether I know her? The story in the Wasau Daily Herald by intrepid reporter Carolyn Tiry tells the tale of a woman who was stopped by police while pantsless not far from the Kohlman and Lee's Grocery store. She apparently decided to stop being naked from the waist down before running from police and getting dressed is probably what slowed her down enough to get nicked. When arrested, she was found to have three steaks hidden. In her purse, you perverts! A steak isn't going to fit in someone's vag. What is wrong with your dirty minds?
Strangely enough, I've never photographed Elizabeth Hoen. She used to dance at the Showtime Gentlemen's Club in Wasau, Wisconsin, but now (at least as indicated by her arrest record) she mostly shoplifts. She also enjoys playing The Sims and watching the AMC show Breaking Bad (I love that show!) Her Facebook page demonstrates that she looks this good in her mugshot because she is even prettier on days she is not being arrested (pic below). I hope she has better days than this one and that her foiled Nude Steak Heist can function as the performance art it should be or at least a funny story to tell at parties some day.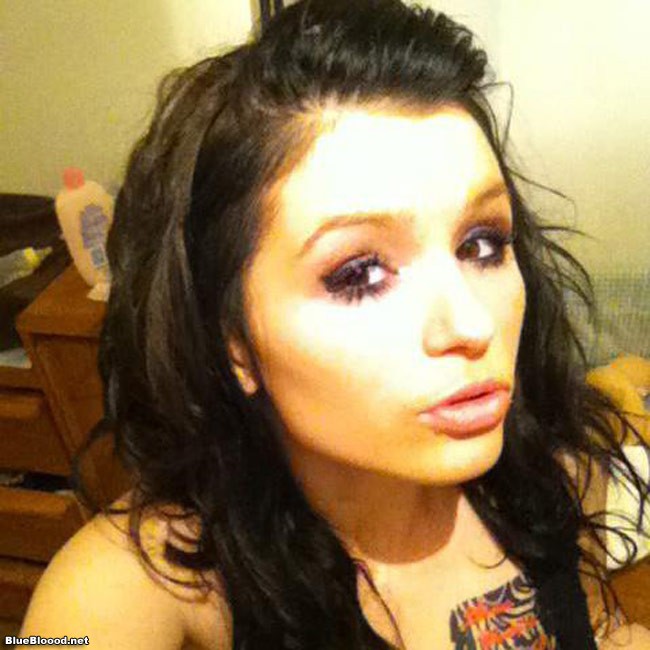 Shortlink:
Posted by
Amelia G
on April 2, 2013. Filed under
Headline
,
Personalities
,
Sex
. You can follow any responses to this entry through the
RSS 2.0
. You can leave a response or trackback to this entry