True Blood – In the Evening
Let's cut to the chase, Jessica gets boned in this episode, but leaves her bra on. Who does that?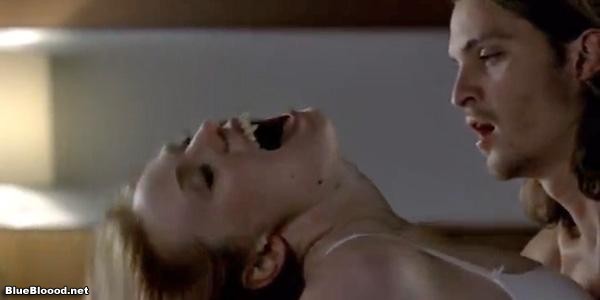 Eric makes his daring escape with Nora and sends baby vamp Willa to warn Pam about the Hep V ploy. Eric asks Billith for help curing Nora but she doesn't want it. Then she drinks some anyway and then there's a flashback of Eric during the plague and apparently he's been boning Nora since 1665. And then she turns into gumbo. Ewww, Eric owes Bill a new bed set.
Sarah finds Truman's head and goes full crazy pants. She calls in the Senator to help cover up his death so she can take over and continue the campaign against vampires.
While Sookie and Barlow bask in post fairy sex, Arlene mourns Terry and gives us all the sads. I still call bullshit on this. Couldn't they have just left him alone for a season? Lafayette and Sook investigate some BOX Arlene is screaming about, turns out it is a huge life insurance policy that Terry took out on himself.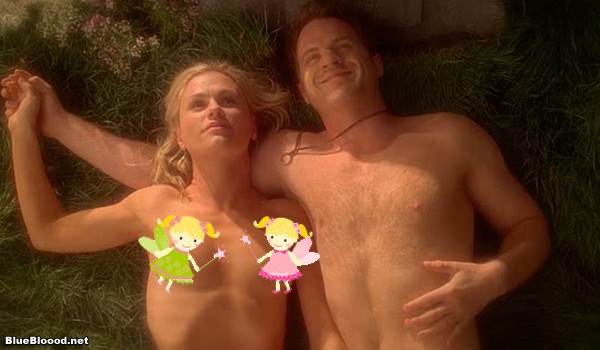 Jason tells Jessica he's going to rescue her but she decides she doesn't want to be rescued. Then she wants to meet with her non fuck-buddy from the Fuck Test, to fuck. Lolololololz. Sorry, Jason.
In a boring and obvious development, our shifter chaser, whose name I don't know or care to know, gets in the shower with Sam because dialogue is over-rated. No more butt shots of Sam! No! Stop it! Then she goes home, then she gets snatched by the Furries.
Pam plays Black Francis the Therapist like a fiddle, which is hilarious and disturbing to watch.
So, three episodes to go in this rather boring season. Once again, they are trying to jam too many story lines into the season when they could focus on say, whateverthefuck is going on with Billith and the Vamp Lab and actually make something entertainging. The new show runner has suspect credentials, but the problems with this show started long before he got here. Can we get some more fighting and fucking here please? That's the only reason most of us tune in anyway.
Shortlink:
Posted by
Raygun Robyn
on July 29, 2013. Filed under
Headline
. You can follow any responses to this entry through the
RSS 2.0
. You can leave a response or trackback to this entry