Strippers and Hustlers Ball in Las Vegas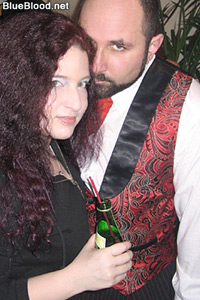 My pal editrix Abby Ehmann always knows where the good party is. (Often she is the one throwing it.) A few years back, the Blue Blood crew exhibited at the late lamented BondCon event in Las Vegas. (BondCon was purchased by the fine folks at Kink, so hopefully they will relaunch it.) The BondCon show was held overlapping the same time as the Adult Entertainment Expo, which Forrest Black and I have occasionally attended over the years to do press coverage on happenings in the adult video world. Immediately prior to these two shows was the Internext show, which SpookyCash sent us to. (SpookyCash is far and away the leading affiliate program in its niche and facilitates people with popular sites being able to make some dough promoting naughty sites from Blue Blood and friends.)
So anyway, after a couple weeks in Vegas, I was all tuckered out, but Abby Ehmann told me that Paul Nathan was hosting a suite party and I really needed to go. This coming weekend, on Saturday August 30 and Sunday August 31, Paul Nathan will be emceeing Perry Mann's Strippers & Hustlers Ball in Las Vegas. Perry Mann has been throwing the Exotic Erotic Ball in San Francisco for nearly three decades now and this month his crew is headed for Vegas. The weekend's festivities include performances from Scooter & Lavelle, Drummer KC, D'Amato, all-female Motley Crue cover band Girls Girls Girls, Gen XX (a sort of stripped down electronica version of The Genitorturers), and Gilby Clarke. (Everyone always mentions that Gilby Clarke was in Guns n' Roses, but I played his Kill for Thrills Commercial Suicide CD endlessly when it came out and recommend picking that up to all.) Of course, a Strippers & Hustlers Ball would not be complete without stripping competitions, so they will be having those too. This may be tricky as Vegas venues can be bitchy about nudity, but I'm sure they've got a plan to make it hot no matter what. The Ball web site claims they are planning the "world's largest girl-on-girl pillow fight" just for the occasion. So you'll be seeing one for the record books, if you head out to Vegas for Labor Day Weekend.
I've written about the aforementioned Paul Nathan-hosted Vegas suite party before, so I won't do a full report. There was one anecdote which comes up a lot socially, but which I did not tell in print previously. The very talented and always impressively-costumed (and fully-functional) Tara Emory was at the party, dressed as a cheerleader. Tara can do the entertaining party trick of pissing through a hard-on into her own mouth. Naturally, I took a number of snapshots of this. As Tara was sitting on the posh bathroom counter in front of a mirror to perform said party trick, the images show brief flashes of me and my pals Bradical and Scar 13 reflected in the mirror. Looking carefully, one notices that Bradical has his hands on his face like McCauley Culkin in Home Alone. Not that anyone has teased him about this. Well, maybe a little.
I had not previously ever thought of Labor Day as a really big holiday, just a fashion season demarcation. It seems like a ton of people are taking trips for it this year though. If you are in Las Vegas for Labor Day Weekend, you just might need to dress like a stripper or hustler and get yourself over to The Orleans Arena in Las Vegas. The event hotline for Perry Mann's Strippers & Hustlers Ball is the extremely awesome (702)-804-STRIP. I appreciate it when someone even takes care of the details down to their phone number.
And don't forget to stop wearing white shoes by next week. Don't want to be gauche.
Shortlink:
Posted by
Amelia G
on August 27, 2008. Filed under
Blue Blood
. You can follow any responses to this entry through the
RSS 2.0
. You can leave a response or trackback to this entry