Jon Hamm's Penis Learns what it's Like to be a Woman
So Mad Men star Jon Hamm is on the cover of Rolling Stone this week. The coverline reads, "Don Draper Exposed". The new season of AMC's Mad Men has been getting a lot of extra promo via the viral nature of John Hamm's apparently enormous penis. A witty-but-unbylined reporter at The Superficial writes "So bad news, Jon Hamm did not break up with Jennifer Westfeldt. Good news, you can totally see his penis in these pictures. In fact, if you squint hard enough, you can hear it say underwear is "pathetic" before diving into a glass full of Canadian Club. I'm typing my daydreams into posts again, aren't I? Goddammit." And then The Superficial shows you a whole gallery of pictures of Jon Hamm and Jon Hamm's bulge, complete with CSI image enhancement close-up, followed by a humorous gallery of famous people like Peter Dinklage from Game of Thrones looking surprised, to wit: Stars React to John Hamm's Penis.
So The Superficial posted Bulgegate back in September. Why is this news now? Well, an "AMC Insider" told the New York Daily News that, "This season takes place in the 1960s, where the pants are very tight and leave little to the imagination. Jon's impressive anatomy is so distracting that they politely insisted on underwear … His privates are the inside joke … Everyone was concerned about too much Christina Hendricks boob, but it's Jon that has the most to show." Although filming for Mad Men must have wrapped quite a while ago, for some mysterious reason, an "AMC Insider" leaked this dickish info in late March 2013. Which would be like totally mysterious. Except that the new season of Mad Men starts airing this coming Sunday, April 7.
When Jon Hamm complains to Rolling Stone, "They're called 'privates' for a reason. I'm wearing pants, for fuck's sake. Lay off … when people feel the freedom to create Tumblr accounts about my cock, I feel like that wasn't part of the deal." If Jon Hamm means his deal with AMC, he might want to read the clauses about publicity in his contract. If he means his deal with doing a job which makes him famous, I agree that fame pretty much sucks post-Internet. If he means that he is just shocked and appalled that people would be looking at him in an objectifying sexual manner, hey, welcome to what it is like to be a woman, pal. Comedian Josh Gondelman writes for Thought Catalog, "Jon Hamm Needs To Stop Dressing Like a Total Slut".
Maybe it will open some people's eyes to how women tend to be treated when they see a man's annoyed reaction to this sort of talent-dismissing physicality-focused attention. Ha, ha, I'm totally kidding. When you type Jon Hamm's name into Bing now, after his name, the first suggestion of what you are probably seeking is "jon hamm bulge". Google, in an effort to be less relevant, suggests Marine Jon Hammar as the first most likely result after Jon Hamm's name. Jon Hammar is the US Marine who was arrested for attempting to bring an antique shotgun into Mexico … when he also attempted to declare it to Mexican customs. Don't worry, Google's next suggestion is also "jon hamm bulge".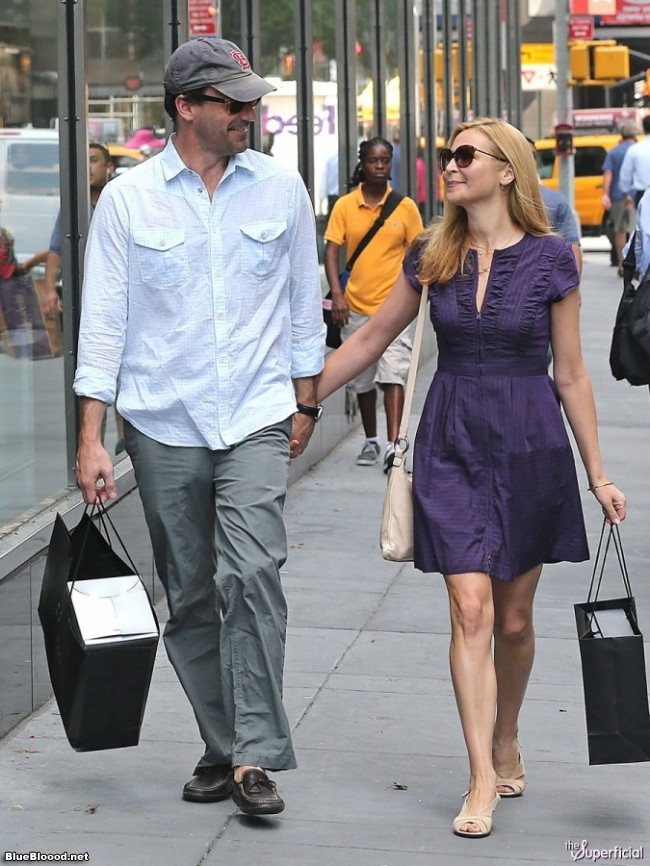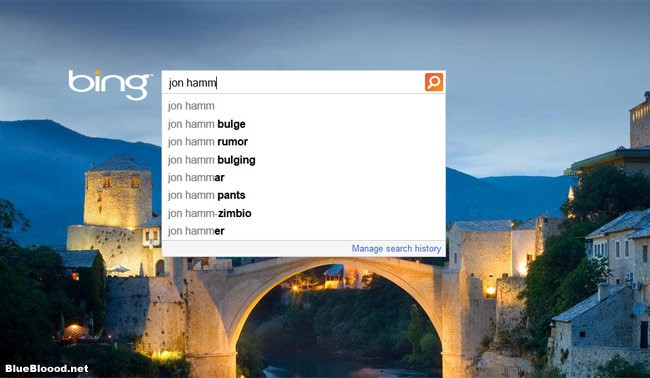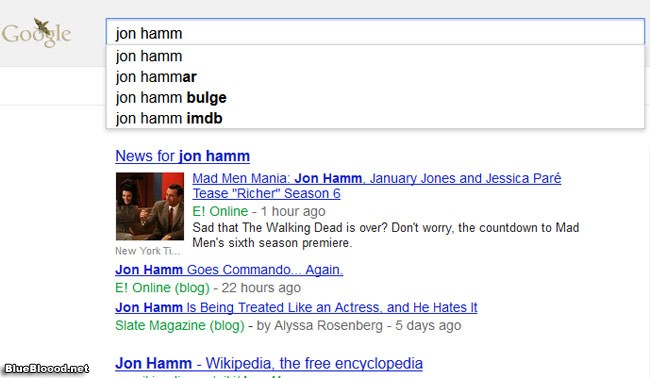 Shortlink:
Posted by
Amelia G
on April 3, 2013. Filed under
Headline
,
Personalities
,
Popcorn
. You can follow any responses to this entry through the
RSS 2.0
. You can leave a response or trackback to this entry