Holiday Cheer From Blue Blood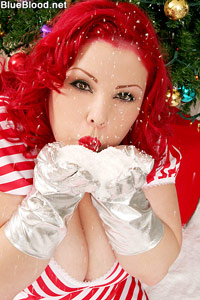 Three very deviant ladies whose work I know well just perked up my holiday season like a handful of little blue pills and a mason jar of Alabama moonshine.
This may come as a shock to those who don't know me, but the holiday season and I are not exactly sympatico. (Those who know me, however, are rolling their eyes: "We know, we know!") I'm not sure at what point during my misspent childhood I turned into a Grinch, but knowing me it probably involved finding out that the Thompson submachinegun I'd just received under the tree wouldn't, you know, kill anyone or anything. In fact, the damn thing was made of plastic.
Since then, I've developed less and less of a taste for the holidays every year, especially after working in the sex toy business where budgets lived and died based on the number of Class V Mister Fuck Double Dongs you move before December 24. I understand it's the same with plasma televisions. The advertising blitz designed to make you cough up your hard-earned for that new sweater, or in recent years The Next New Shiny Thing, used to begin the day after Thanksgiving; then it was some nebulous date in early November; nowadays, the pumpkins are shredded in storefronts across the nation in the desperate race to get the damned Christmas trees up. "Bankrupt yourself," the ads seem to say, "Or your Wife/ Husband/ Girlfriend/ Boyfriend/ Kids/ Dog/ Gynecologist won't like you any more." It's Guilt Trips for Jesus, and I'm havin' none of it.
The only thing that gets me through the holidays is all the Christmas themed smut that's out there. I will admit, I am a sucker for the irreverent trope-orgy satisfaction of a themed photo shoot or dirty story, and three Blue Blood hotties just got to the heart of holiday happiness, with a dose of nasty Santa Claus and a succulent suck on a candy cane that's been somewhere your pastor wouldn't approve of.
First there's lovely April Flores; now there's someone whose spunky style is begging for the Blue Blood treatment. Curvy & gorgeous, April is the muse of photographer and videographer Carlos Batts; she is the main subject, in fact, of two of his erotic DVDs, Alter Ego and Voluptuous Life both of which which showcase her pouting, preening, dressing up, dressing down, having decidedly deviant fun with various people and generally looking amazingly hot. An extended cut of Voluptuous Life is out from Adam & Eve's DVD sublabel Bad Seed — Carlos's first major DVD distribution. I just got the disc today, in fact. I'm betting it's even dirtier than the awesome indie-underground version.
In this Amelia G & Forrest Black shoot, April is dressed up like a candy cane and every bit as scrumptious. Bright red hair, silver gloves, red stockings and candystriped dress are enough to keep Santa happy (and off my roof!), but what every girl wants for Christmas is a pair of silver heels like these. Things get more interesting when April shows just how skillfully she can lick a candy cane, and let's just say the dress, nice as it is, doesn't last long and neither does the candy cane's innocence.
Matching April's candy cane and raising her Saint Nicki and a pervy lesbo elf are Michelle Aston and Aiden Starr. I had the pleasure of meeting Aiden Starr at the Adult Entertainment Expo in Las Vegas last year, and since then I've made strange howling noises every time I think about her. Petite but naturally curvy, she's an intoxicating mixture of sugar and spice, the sugar being honey the color of her shimmering blonde hair, and the spice being deadly nightshade with a hemlock chaser — just to my taste. If you don't believe me, look at the wicked glint in her eyes: she loves to hurt people, you know it. Or maybe I know it, because she told me, and I'm fairly confident she was not blowing smoke up my ass given her sadistic bent showcased in about half a dozen BDSM flicks I've seen.
Who better than Aiden, then, to frolic as a green lipped corseted elf to Michelle Aston's stiletto-heeled Santa? The answer is none, none more better. In these shots (also by Amelia & Forrest), things go from playful to PLAYFUL if you know what I mean, and if two dirty girls are having fun then it's these two.
I love two particular things about this shoot. First, Aiden's corset is not some schmantzy leather but what looks from this angle like down-to-business cream-colored number like what your tweaked-out gramma wore when she smoked reefer with Mitchum and did him and all his friends back in the '50s. That, or it's medical grade support fabric, which I don't even want to think about — it gives me goosebumps. Anyway, I also love that Michelle has been practicing in the mirror, I think, between playing scenes from Sid & Nancy on repeat — she's got her sneer down pat. If she didn't chase each erotically derisive lip curl with the that slutty little thing she does with her tongue, I might think she didn't like me.
You are never going to see two hotter women getting it on in holiday costumes, I guarantee it. After some luscious shots detailing these two beauties' very special attributes, they get delightfully busy, and strategic portions of both Santa's and elf-girl's wardrobe go bye-bye along with my holiday gloom, and probably yours too if you've got any taste in the ladies.
Shortlink:
Posted by
Thomas S. Roche
on December 21, 2007. Filed under
Blue Blood
. You can follow any responses to this entry through the
RSS 2.0
. You can leave a response or trackback to this entry